UNIQLO Launches Attack On Titan T-Shirt Line!
This is UNIQLO's third anime collab after One Piece and SPY X FAMILY.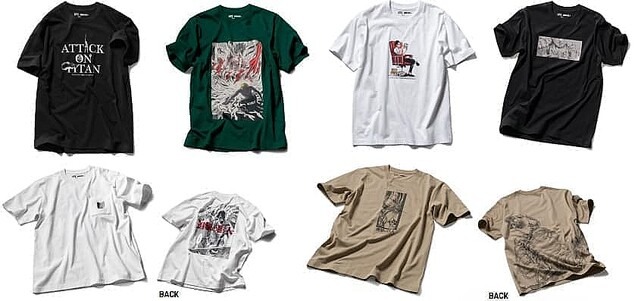 UNIQLO, a fashion brand company is coming out with Attack on Titan T-shirts! The collection will become available worldwide, with different release dates for different areas. In America, these shirts will be out on March 30, 2023.
This is the brand's third anime collaboration. Previously, UNIQLO released T-Shirts in collaboration with SPY  x Family and One Piece. 
Each shirt is priced at $24.90, and there are eight different options. It also appears these are for adults only.
The first shirt is titled "Dedicate Your Heart":
"The design is based on a scene in which Levi Ackerman, the squad captain of the Survey Corps, asks his fallen comrades, 'You see that?' This is when Levi makes the 'Dedicate your heart' salute, which symbolizes the Survey Corps' spirit."
The second shirt is titled "Wings of Freedom":

"Mikasa, Armin, and Levi head to their final battle against Eren to stop the Rumbling. The design features an iconic scene in which Levi replies to Mikasa's words, 'I'll do it, everyone cover me'. The scene from this epic battle is printed vibrantly on the back, while the 'Wings of Freedom,' the emblem that represents the Survey Corps' freedom, is featured on the front of the T-shirt."
The next is titled "Attack on Titan":

The fourth is "A Titan Inside The Wall":

"' This is a cruel world. And yet… so beautiful…'
These words express the beauty of life in Attack on Titan, which meticulously depicts the cruelty of the world and human relations. This quote from Mikasa, who finds hope in a world of contradictions, contains a hidden facet of the work's thematic messages. A Titan inside the wall is featured on the front print, while the quote is printed on the back."
The fifth is called "The 'Rumbling' Begins":

The sixth is "Eren Transforms into a Titan":

"Eren, Mikasa, and Armin are three childhood friends who appear in Attack on Titan. This unique design combines their fight scenes with the work's title logo."
The seventh is "Eren, Mikasa, and Armin":

"Eren, Mikasa, and Armin are three childhood friends who appear in Attack on Titan. This unique design combines their fight scenes with the work's title logo."
Last but not least is "The Captain Levi":

"' I swear to you… I will eradicate the titans!!'
A soldier asks if he is of no use to humanity in the fight against the Titans as he draws his final breath. Levi, the squad captain, holds his bloodied hand and replies, 'The resolve you leave behind will give me strength.' Levi's subsequent words are incorporated into this design. The artwork was featured on the cover of FRaU magazine and quickly earned a reputation."
Source: UNIQLO