That Time I Got Reincarnated As A Slime Now Has 40 Million Copies In Circulation
The light novel series of That Time I Got Reincarnated As A Slime has now sold 40 million copies in Japan as well as outside.
Light novel series written by Fuse and illustrated by Mitz Vah That Time I Got Reincarnated As Slime now has 40 million copies in circulation worldwide (including manga and spin-offs).
Out of the 40 million, 35 million copies are in Japan and 5 million copies are from outside Japan.
That Time I Got Reincarnated As A Slime was first serialized as a web novel between 2013-2016 on Shosetsuka ni Naro. 
The series was later acquired by Micro Magazine, which published the first volume in 2014.
The series also received an anime adaption in 2018. The first season aired from Oct 2, 2018, to Mar 19, 2019, with 24 episodes and was made by 8-bit.

The second season was released in two parts where first part with 12 episodes aired from Jan 12, 2021, to Mar 30, 2021. The second part of the season aired from Jul 6, 2021, to Sep 21, 2021, also with 12 episodes.
On Nov 25, 2022, the series also released a film that reached earnings of $1,459,515 in just three days of its release in Canada and the USA.
Which placed the film at 8th place in three-day weekend earnings.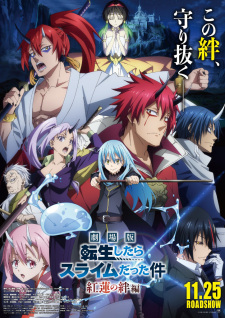 About That Time I Got Reincarnated As A Slime
MAL describes the anime as:
Thirty-seven-year-old Satoru Mikami is a typical corporate worker, who is perfectly content with his monotonous lifestyle in Tokyo, other than failing to nail down a girlfriend even once throughout his life.
In the midst of a casual encounter with his colleague, he falls victim to a random assailant on the streets and is stabbed. 
However, while succumbing to his injuries, a peculiar voice echoes in his mind, and recites a bunch of commands which the dying man cannot make sense of.
When Satoru regains consciousness, he discovers that he has reincarnated as a goop of slime in an unfamiliar realm. 
In doing so, he acquires newfound skills—notably, the power to devour anything and mimic its appearance and abilities. 
He then stumbles upon the sealed Catastrophe-level monster "Storm Dragon" Veldora who had been sealed away for the past 300 years for devastating a town to ashes. 
Sympathetic to his predicament, Satoru befriends him, promising to assist in destroying the seal. In return, Veldora bestows upon him the name Rimuru Tempest to grant him divine protection.
Now, liberated from the mundanities of his past life, Rimuru embarks on a fresh journey with a distinct goal in mind. 
As he grows accustomed to his new physique, his gooey antics ripple throughout the world, gradually altering his fate.
Source: Twitter