Michael B. Jordan To Collab With One Punch Man Artist On A Future Project?
Jordan had taken the first step with the request, sowing the seeds for a genuine collaboration for a potential live-action/animation project!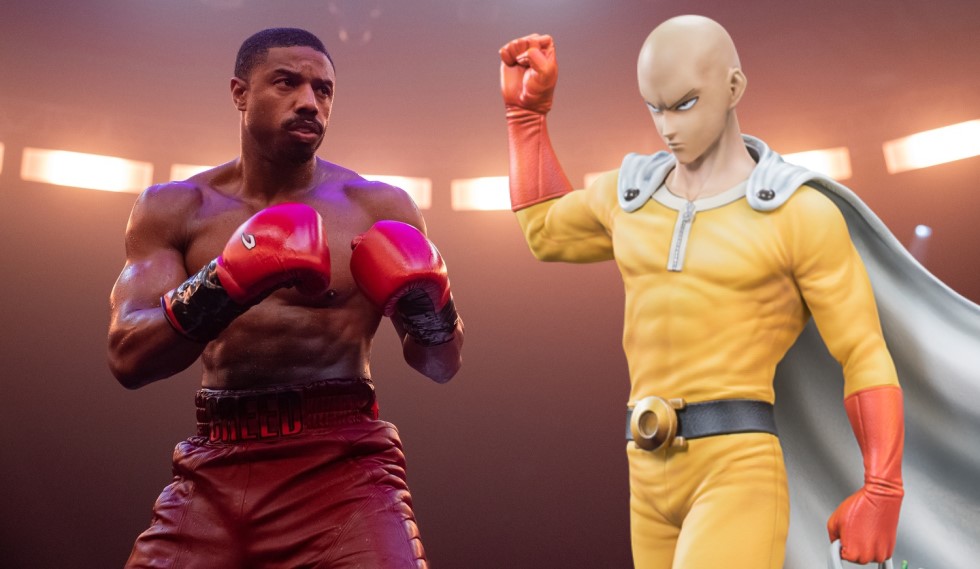 American actor and Creed Director Michael Bakari Jordan met Yusuke Murata, the beloved artist of the One Punch Man manga while visiting Japan for promoting Creed 3 ahead of its international release.
Both men sat down for a recorded conversational interview, discussing each others' works. Towards the end of the interview and much to Murata's surprise, Jordan asks him whether he'd be interested in working with him on a collaborate project. The artist was thrilled to hear such a request and said he'd be happy to work with him someday.
The exact words used by the two creators were as follows:
Jordan: If it's all right with you, Murata-sensei, I'd love to work with you!
Murata: What? Is it such an honor? ……. I'm glad to be alive! 
Jordan: By all means. I love collaborations and would love to work with talented people like you.
Murata: I would be happy to work with you, Director Jordan, if I can help you!
Jordan: I feel the same way. I've been influenced by Japanese animation since I was eight years old, so I'm only happy to be able to collaborate with creators I love, and I have a strong desire to work with people who feel the same way I do now. I met you Murata-sensei for the first time today, but I feel like I've met you before. There is a strange sense of familiarity.
Murata: That makes me happy. I also want to continue to challenge myself, not only with manga, but also with setting up an animation studio and making animation. I think creators are fighters.
Jordan: It's the same in every moment. It's a constant battle (laughs).
Though there's no actual confirmation of the collaboration, Jordan had taken the first step with the request, sowing the seeds for a genuine  collaboration for a potential live-action/animation project between the American and the Japanese.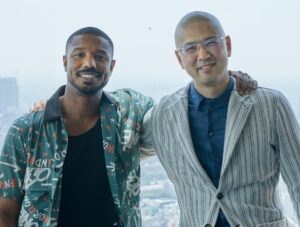 This request by the Creed director was built up through their discussion of Creed 3 & One Punch Man, while both keenly observed their unanimous agreement on the philosophy of "A Hero's Journey", which is reflected on both of their works.
Jordan said he was greatly influenced by One Punch Man & Yusuke Murata loved "Creed Strikes Back in the Past" (Creed 3) so much that it's one of those films he'll remember for the rest of his life.
Michael B. Jordan: Murata-sensei, nice to meet you! I'm a big fan, so I'm very honored.
Yusuke Murata: Nice to meet you! It's really nice to meet you too. I saw Creed 3 last night and it was fantastic. I'm not exaggerating, it's one of those films I'll remember for the rest of my life.
Jordan: you're kidding me. …… (looks up to the heavens). It's really special for me to be able to talk to you like this, and I'm thrilled to hear you say that. I'm extremely influenced by One Punch Man, and I feel that it's a story about a hero's journey. It depicts the process of growth and development of various characters as they go through trials and tribulations, and I also feel love and compassion for them. The main character, Saitama, is in a different position because he has mastered the strongest. The difference between his outer and inner life (the fact that his strength is not communicated to those around him) is also fascinating.
Murata: Thank you very much. I think that Creed and One Punch Man share the same "conditions for a hero". What that is is that those who fight against the protagonist, regardless of whether they are friend or foe, have their lives turned upside down. In the case of Saitama, that is, if the opponent didn't die in one punch. ……
Jordan: Indeed. Maybe it's because you learn about yourself in the fight. You face what stands in the way of your life and what creates conflict in your mind in a fight. That's very emotional.
The rest of the interview dwells in them discussing Creed 3 but in between, Murata raised up "Hajime No Ippo" and asked Jordan if playing Adonis Creed felt like stepping into the shoes of Ippo Makunouchi, the main character of the boxing anime series.
Jordan agreed and added that he was approached by a bunch of people asking him if he was interested in doing a live-action adaptation of Hajime No Ippo. The actor admitted that he wouldn't be able to do it complete justice because the current technology used in live-action movies aren't up to the mark required to pull it off 100%.
But he gives a window of hope, saying that he's interested in working on such a project when the technology develops to the standards needed in the future.
(A potential Michael B. Jordan X Yusuke Murata collab and a Hajime No Ippo live-action project by Jordan himself? Thinking about these possibilities would be a delight for any anime fan! Murata definitely looks forward to it!)
Murata: I heard that you like "Hajime no Ippo" (The First Step), so this is exactly what "Hajime no Ippo" is for you, isn't it (laughs)?
Jordan: Yes, that's right (laughs). In fact, I've been approached by several people asking, 'Would you like to direct a live-action version of the anime?' But I told them, "I can't do that. ……". This is because I don't think it's possible to translate 100% correctly with today's live-action technology. If the technology develops in the future, it may be possible to successfully convert the texture to live action, but… However, I am interested. Like Murata-sensei, I want to challenge myself with a different genre for each work, and I want to push my own limits.
Murata: This is truly a "new era". I'm really looking forward to seeing that unfold from Director Jordan.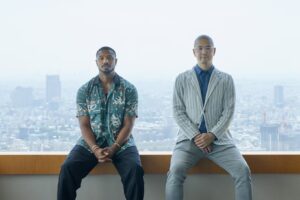 Prior to meeting Yusuke Murata, Michael B. Jordan visited Japan's Studio Pierrot, where he was gifted with a character art of Naruto drawn by the anime's character designer Tetsuya Nishio.
He also stopped by for some shopping at a JUMP SHOP, where he bought a Bleach manga volume and some other goodies!
/#クリード来日
マイケル・B・ジョーダン
JUMP SHOP訪問映像公開🥊
\

日本のアニメ大好きなマイケル・B・ジョーダンが、ジャンプの人気キャラクターに大興奮!!
撮影終了後には様々なグッズを購入していました🛍️

『#クリード 過去の逆襲』本日公開! pic.twitter.com/S5KfAkMvpD

— ワーナー ブラザース ジャパン (@warnerjp) May 26, 2023
Creed III is a 2023 American sports drama film directed, produced by and starring Michael B. Jordan from a screenplay by Keenan Coogler and Zach Baylin. IMDB describes the movie as follows:
Adonis has been thriving in both his career and family life, but when a childhood friend and former boxing prodigy resurfaces, the face-off is more than just a fight.
On May 17, 2023, TMS Entertainment and Michael B. Jordan announced that the Japanese release of the Creed III movie will feature a special anime by the directors and writers of Megalobox.
Yūsuke Murata and ONE launched the One-Punch Man manga on Shueisha's free "Tonari no Young Jump" website in 2012. The series is a remake of ONE's original web manga of the same name. Viz Media is releasing the series digitally in its Weekly Shonen Jump manga anthology and is also releasing the series in print.
Manga received an anime adaptation by Madhouse. The anime aired from Oct 5 2015 to Dec 21 2015 with 12 episodes. The second season of the anime aired from April 10 2019 to Jul 3 2019 with 12 episodes.
The third season of the anime has been confirmed though, no release date has been shared yet.
Viz Media describes the story of the manga's first volume:
Every time a promising villain appears, Saitama beats the snot out of 'em with one punch! Can he finally find an opponent who can go toe-to-toe with him and give his life some meaning? Or is he doomed to a life of superpowered boredom?
Source: Comic Natalie