Creed 3's Japanese Release Took Michael B. Jordan To Naruto's Anime Studio
Studio Pierrot's character designer gifted the actor a sketch of Naruto!
American actor Michael Bakari Jordan is known for many things. Boxer Adonis Creed in the Creed movie Trilogy, Erik Killmonger in Black Panther, Reggie Montgomery in All My Children and People's Sexiest Man Alive in 2020.
But do you know that he watches anime, every single day?
That's right! The actor revealed his craze for anime while talking about Creed 3 and even said some of the moves in the film were inspired from popular shows like Naruto & Dragon Ball Z!
Jordan also leaked out a portion of his watchlist by recommending his top 5 go-to anime of all time!
The fanboy inside him grew deep enough to go visit Japan's Studio Pierrot, the place where Talk-No-Jutsu, Rasengan & Bankai came to life in animated format!
Jordan came to Japan for promoting Creed 3 ahead of its international release. The staff at Studio Pierrot highlighted his visit to the Studio on Twitter on May 22, 2023 and gifted him a shikishi or character art of Naruto drawn by the anime's character designer Tetsuya Nishio.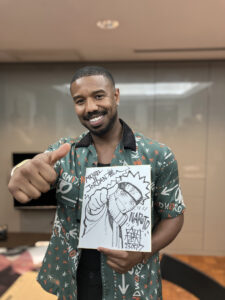 In addition, Studio Pierrot received a Creed III movie poster signed by the actor himself.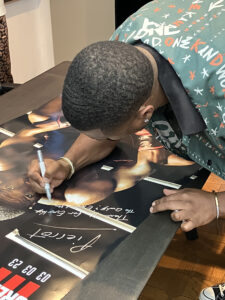 Creed III is a 2023 American sports drama film directed, produced by and starring Michael B. Jordan from a screenplay by Keenan Coogler and Zach Baylin. IMDB describes the movie as follows:
Adonis has been thriving in both his career and family life, but when a childhood friend and former boxing prodigy resurfaces, the face-off is more than just a fight.
On May 17, 2023, TMS Entertainment and Michael B. Jordan announced that the Japanese release of the Creed III movie will feature a special anime by the directors and writers of Megalobox.
Naruto manga, written and illustrated by Masashi Kishimoto. It was serialized in Shueisha's magazine, Weekly Shonen Jump from 1999 to 2014, and released in tankobon 72 volumes.
Viz Media licensed the manga and anime for North American production and serialized Naruto in their digital Weekly Shonen Jump magazine.
Naruto is one of the best-selling manga series in history having 250 million copies in circulation worldwide in 47 countries and regions.
Out of this, 153 million copies were sold in Japan alone, and the remaining 97 million copies worldwide.
The Naruto anime was produced by Studio Pierrot and TV Tokyo. It premiered in Japan on October 3, 2002, and concluded on Feb 8, 2007.
The anime aired 220 episodes in total.
Naruto: Shippuden, developed by Studio Pierrot, is the sequel to the original Naruto anime. Naruto: Shippuden adapts Part II of the manga.
The anime began on February 15, 2007, and ended on March 23, 2017.