Makoto Shinkai's Film Suzume Surpasses Jujutsu Kaisen 0 In Rankings
The film becomes the 15th highest-grossing film of all time in Japan.
Makoto Shinkai's latest anime film, Suzume ("Suzume No Tojimari) has earned 13.93 billion Yen (102.02 million USD) and sold 10.48 million tickets.
The film surpassed Jujutsu Kaisen 0 and earned the 9th highest-grossing anime film of all time and the 15th highest-grossing film of all time in Japan.
Shinkai's previous film Weathering With You with earnings of 14.23 billion Yen is just above Suzume at #14.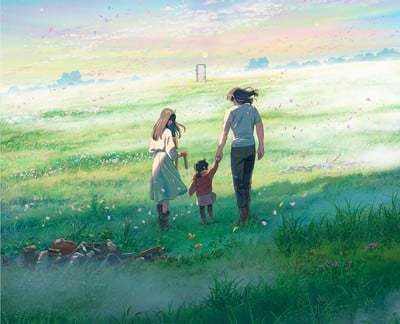 Suzume opened at #1 on November 11 and the film sold 1.33 million tickets earning 1.88 billion Yen (13.49 million USD) in the first three days.
Shinkai's Suzume also has the strongest opening three days of all Shinkai's films. In its first three days, the film sold 14.8%  more and earned 14.4% more than Weathering With You.
When compared to Shinkai's acclaimed Your Name, Suzume sold 38.7% more and earned 47.4% more in its first three days.
Makoto Shinkai directed the film and wrote the screenplay.
Masayoshi Tanaka did the character designs and Kenichi Tsuchiya was the animation director. Takumi Tanji was the art director and Kazuma Jinnouchi scored the film alongside RADWIMPS.
CoMix Wave Films in collaboration with Story Inc. produced the film and TOHO is distributing the film. RADWIMPS and Kazuma Jinnouchi's score for the film is nominated for Best Music in the 46th Japan Academy Film Prize Association awards.
Suzume No Tojimari Synopsis as per ANN:
Suzume is a normal high school girl living with her aunt in southern Japan.
One day, she meets Souta, a young man looking for ruins in the area.
Intrigued, she follows after him and finds a freestanding door in the ruins of a hot springs resort.
But when she opens the door, she sees another world—one which eldritch, disaster-causing forces are all too eager to escape from.
Yet, no sooner is the door closed the things get worse.
Souta finds himself turned into a chair by a talking cat named Daijin—meaning it's now up to Suzume to travel across Japan, closing doors and preventing disasters as they chase Daijin to get Souta his body back.
Sources: Mainichi Shimbun's Mantan Web, Kōgyō Tsūshin