One Punch Man Author ONE Talks New Work Versus In Exclusive Interview
Initially, Azuma was supposed to be in charge of Storyboards but after considering his workload Bose was chosen for storyboards.
One Punch Man and Mob Psycho 100 author ONE released a new manga series Versus in 2022. This series is made in collaboration with Kyotaro Azuma (illustrator) and Bose (compositor). Comic Natalie held an interview with the three creators.
Important Take Aways From The Interview
The interview dwelled on some important and fun topics of the manga creation process. The interview was held to celebrate the release of Volume 1 of the manga.
Here are some important Topics discussed in the interview.
ONE on coming up the story
ONE shared that he wanted to make an isekai story as it had become a major trend. With this story, he wanted to go with a different approach when compared to other stories in this genre. He started thinking of a situation where multiple alternate worlds get involved and apex predators from different worlds come storming into one world.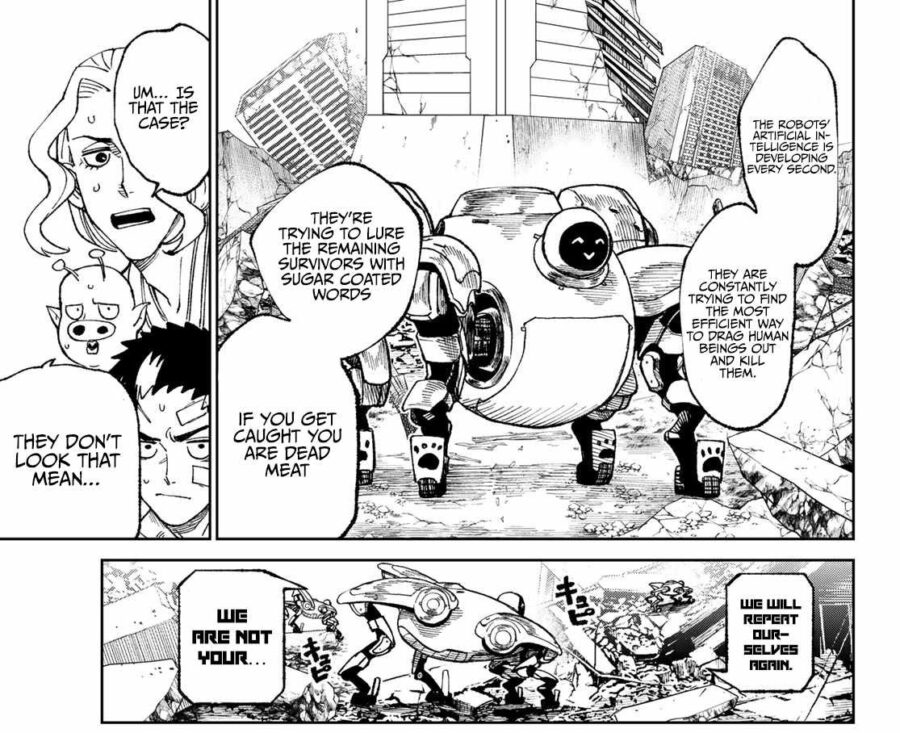 When asked about the story's progression, he shared that at first, he thought about how humans would react if their world fell into such a predicament. He then realized that there was a choice for humans to fight in an unusual manner, which led to the current progression of the story.
Possibility of ONE illustrating the manga
ONE realised early on that he could not create the vision he had for the world and understood that he would be required to work with others.
He shared that 2 to 3 years ago when he had not created the story he had already requested for the artists. At first, he went deeper into the story's content and reviewed the setting to make it have a more concrete serialization.
Addition of Azuma and Bose
As the story progressed, ONE understood that coming up with storyboards for the story will be tough for him. During this time the editorial department of Sirius had proposed Kyotaro Azuma. Although ONE had requested to not inform Azume about this, Azuma was chosen to be in charge of storyboards. After, considering Azuma's workload ONE realized that it would be very difficult for him. So ONE contacted Bose who he knew was good at storyboards.
Bose shared that he had been in contact with ONE before but never got a chance to work with him. So, when ONE asked him to do the storyboards he quickly agreed.
He said it was easier for him to work on Versus as he had been reading ONE's works for a long time and his writing is similar to what he wanted to draw. Also he ad already worked on a project before where he made storyboards from the text.
Azuma's Views of Versus
Azuma informed that he first time heard of Versus during his meeting with the editor for another matter. The editor had only shared the outline of the story and Azuma was already intrigued by it and said, "I'll do it" right away. Though Azuma had to wait a whole year before he could start working on the manga.
ONE said that he respects Azuma and his skill and thought he would be in high demand. He also believed that it would be rude to approach Azuma before the setting of the manga was fixed.
When he started working on Versus he was already working on The King of Fighters Side Story: The Origin of Flame – Shingo Travels Through Time! Let's Go! which was getting serialized in the same magazine as Versus.
On character designs for Versus, Azuma informed that he had received drafts for the first three characters (shown in the volume cover) from ONE and the rest from Bose. However, since it was ONE's work he tried to keep and match the character design of the character to that of ONE's style.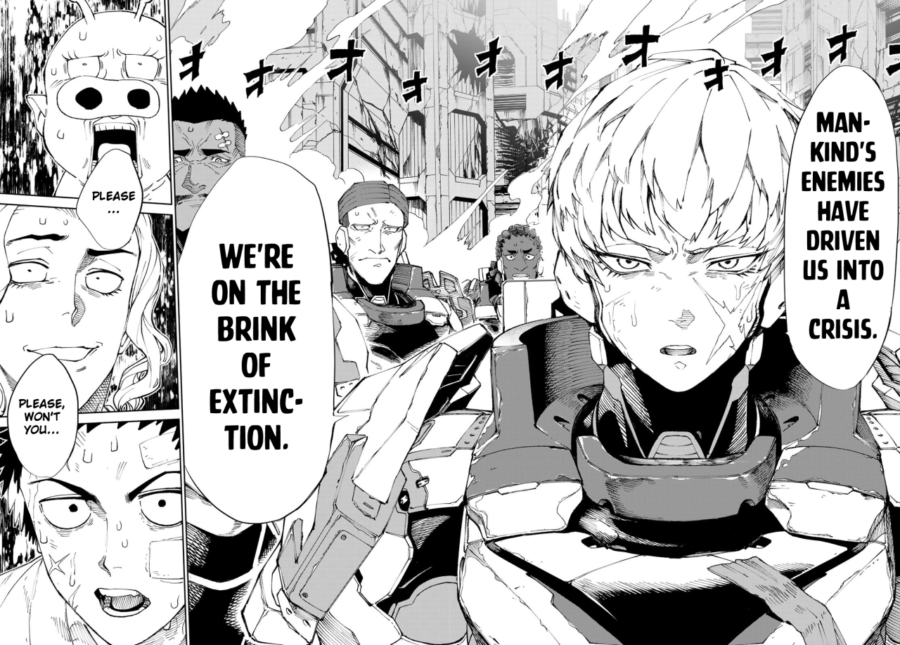 Azume on magic and SF parts of manga said that many different worlds appear in the manga. So, there are things in the manga he had never drawn before. So he was unable to decide how to share the images with the assistants and as manga is serialized in Sirius there are deadlines, so felt like he didn't have enough time.
Now Azume creates rough drafts and shares them with ONE and Bose to get their opinion on it.
ONE then says that as he looks at the rough drafts, he never has anything specific to say. Bose supports ONE's point and says that Azuma's drafts are great.
These were some important takeaways regarding the new series Versus from the interview. You can read the whole interview on Comic Natalie's website.
About The New Manga Versus
Versus started its serialization on November 26, 2022, in Kodansha's Monthly Shonen Sirius magazine. English version of the manga is available on its official website.
The manga is described as:
Versus is a battle fantasy set in a world ravaged by powerful enemies. The world was ruled by a demon king and his 47 subordinates, and the heroes fought bravely against the demon army but were defeated.
In the midst of this, the hero Halou's comrade, Zaby, succeeded in summoning soldiers from another world. The hero comes from a different timeline from the real world. They thought they could defeat the demon army with their modern equipment, which was different from theirs but was short-lived.
They also learned that they were attacked by another "enemy of humanity" and sought help from Halou and his team.
Stay tuned for more content regarding Shonen's shows.