Black Clover Will No Longer Publish In Weekly Shonen Jump
The first Black Clover chapter in Jump GIGA will be released this winter.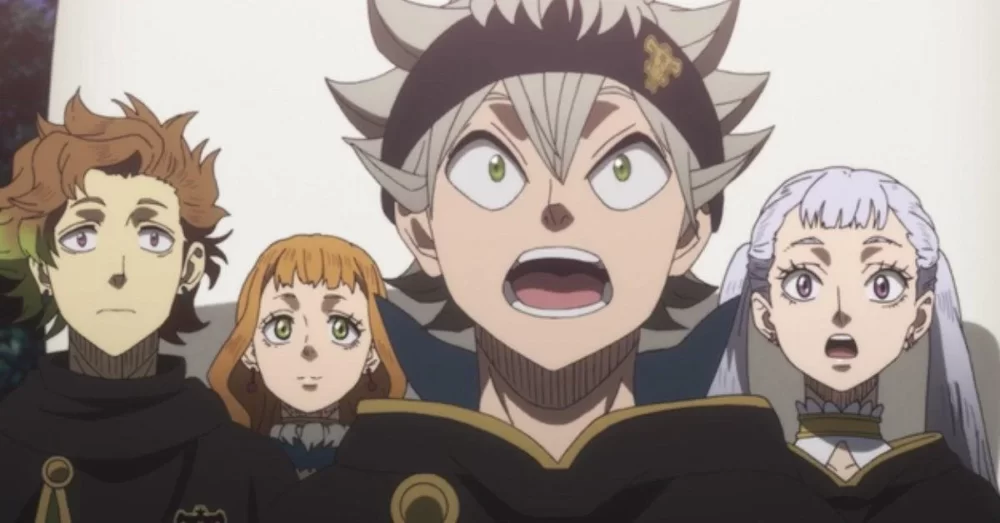 Yuki Tabata's manga Black Clover will no longer be serialized in Shueisha's Weekly Shonen Jump magazine as it will be transferred to Jump GIGA.
The manga will transfer after the release of Weekly Shonen Jump Issue #38. Yuki Tabata also shared a heartfelt message regarding the transfer.
In the letter, he apologized to the fans for not completing the serialization in Weekly Shonen Jump. He then assured the fans that he would bring the manga to a successful end.
You can read the translation of Tabata's message below:
Transferring to Jump GIGA!!!
As the serialisation of Black Clover has been going on for a long time, the increasing demands of the schedule for a weekly serialisation have been clashing more and more with my own situation as a manga author. Therefore, I've been discussing this with the editorial department for a while, and this time we have decided to transfer the serialisation to GIGA.
It's a sudden move and it might have surprised the readers. I would like to apologise for not being able to finish the serialisation in Weekly Shonen Jump.
However, with GIGA, I believe I can proceed with the climax of Black Clover in a more optimal condition, aligning with my personal situation as a writer! There are still quite a few stories I'd like to draw, that I must draw, so please look forward to them.
I'll do my best to bring Black Clover to a successful conclusion!
While this may need a bit of your patience, I will definitely power up in the upcoming Winter issue of GIGA, so I would be grateful if you could keep an eye on Asta and everyone else's future!
Thank you very much for your continued suppoooooort!!
The first Black Clover chapter in Jump GIGA will be released this winter.
This is a big shift from the weekly schedule of the manga, and many fans are speculating that it might be because of personal problems and hardships that Tabata has faced and talked about openly through his author comments.
At this point put Black Clover on hiatus like a month or so. Let Tabata rest and let him deal with his personal life please pic.twitter.com/rVZbL1wQID

— Thunder Devil (@ThunderTheDevil) May 17, 2020
#BCSpoilers author comment. Let's hope for a speedy recovery of Tabata-sensei's wife 🙏 pic.twitter.com/ETvxl8BG4g

— nitebaron 魔王 (@nite_baron) August 2, 2023
Tabata's recent author comment is a worrying one. He honestly needs to take a break so he can focus on taking care of his wife. I hope she feels better pic.twitter.com/jH93qkCH9s

— 🍀….🍀 (@nutterbutter912) August 29, 2022
Tabata's author comment this week omg☹️ explains why hes taking a break, wishing his daughter a swift recovery🙏❤️ pic.twitter.com/XO5C3Mss84

— Val ² 🥀 (@notvalclover) October 16, 2022
Tabata has taken several breaks over the years, and many fans think that this is for the better, as he can take more time to draw at his own pace and deliver an amazing finale to the manga.
About Black Clover
Tabata launched the Black Clover manga in Weekly Shonen Jump in February 2015. Viz Media publishes the manga digitally and in print, along with Shueisha's MANGA Plus, which publishes the manga digitally.
The manga's anime adaptation premiered in Japan in October 2017 and aired its 170th episode in March 2021.
A movie titled Black Clover: Sword of the Wizard King was released on Netflix on June 16, 2023, as well.
Crunchyroll streamed the anime in Japanese with English subtitles, and Funimation streamed the series in an English dub.
Crunchyroll defines the first season of Black Clover as:
In a world where magic is everything, Asta and Yuno are both found abandoned at a church on the same day.
While Yuno is gifted with exceptional magical powers, Asta is the only one in this world without any.
At age fifteen, both receive grimoires, magic books that amplify their holder's magic.
Asta's is a rare grimoire of anti-magic that negates and repels his opponent's spells.
Being opposite but good rivals, Yuno and Asta are ready for the hardest of challenges to achieve their common dream: to be the Wizard King. Giving up is never an option!