My Hero Academia Chapter 401 Spoilers: All Might Is Down!
The chapter is titled "The Lunatic."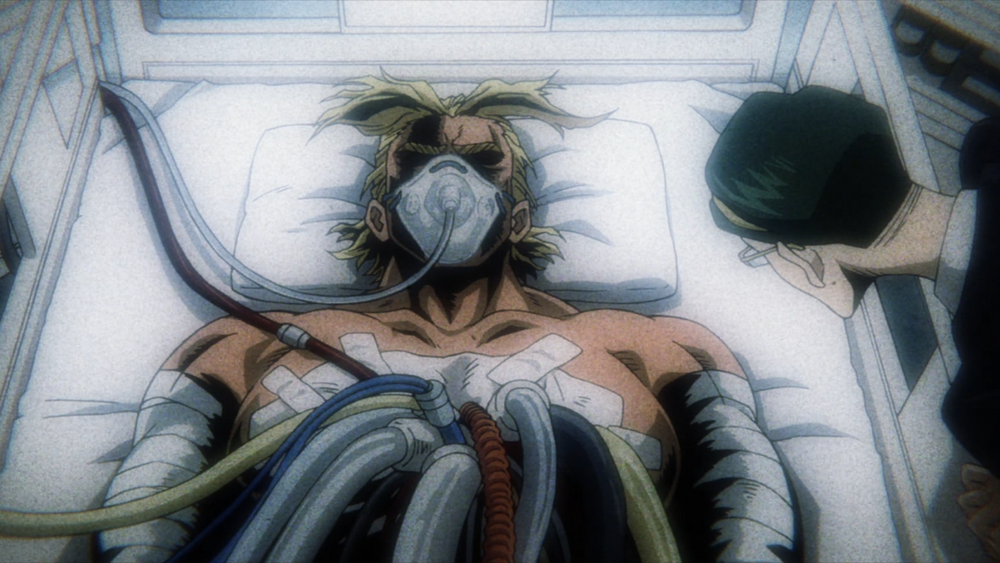 The spoilers for chapter 401 of the My Hero Academia manga are here, and it has twisted things even more!
My Hero Academia Chapter 401 Spoilers:
According to My Hero Academia chapter 401 spoilers, the chapter is titled "The Lunatic."
The chapter opens with a flashback showing Stain using his glider to travel to the fight between AFO and All Might. He was able to decipher what was happening via All Might's dialogue with Iida and Shoto, whom he refers to as the "Scar kid."
As he drew nearer, he noticed more blood and debris, but upon further examining the blood, he recognized that it wasn't All Might's blood.
The chapter then shifts back to the present where Stain is wondering if All Might understands the importance of him being alive.
The only reason Stain gave his speech at Kamino was to let All Might understand the importance of his life. Might responds, "I get it," and the two launch a joint assault.
Stain performs the well-known I Am Here (Watashi ga kita) by All Might with a little modification (Ore ga kita), but it has no impact.
AFO employs "Forced Activation" and "Phlebotomy," two Quirks together that force AFO's blood to escape his body and almost completely negate the power of Stain's Quirk.
According to AFO, the demon lord knew that Stain was preparing something against the villains because he was the only one to escape Tartarus by himself.
As a result, the demon lord had taken many preventative precautions. When Stain recognizes he needs additional blood, AFO simply uses antigen modification to completely alter the blood's makeup.
Since this is how he has managed to remain anonymous for so long, it implies that he is an expert at this.
Then, at his back, a mouth emerges and nips Stain, leaving him gushing with blood.
He is made fun of by AFO, who claims that his body has cooled down after receiving new blood.
It's unclear from My Hero Academia chapter 401 spoilers who AFO is addressing, but it's most certainly him.
Stain's importance to Tomura and the league is further made fun of by AFO, who claims that Stain has served his role and is no longer useful.
They are all, in Stain's opinion, a part of a larger whole. He had learned the importance of being a hero from All Might, and now he begs his hero to help him "win this fight" as an AFO slams into him and blood is seen oozing out. He probably gets his peculiarity from AFO.
Although AFO has gotten close enough to Shigaraki and U.A. to use his other Warp teleportation Quirk, a police report shortly claims that All Might, who is still alive, roars at him to come over to him. Chapter 401 of My Hero Academia ends with AFO observing the collapsing U.A. island.