Suzume Surpasses Jujutsu Kaisen 0 To Become India's Highest Grossing Anime Film
Makoto Shinkai shows his appreciations to Indian fans for making Suzume No Tojimari a big hit in a PVR released clip!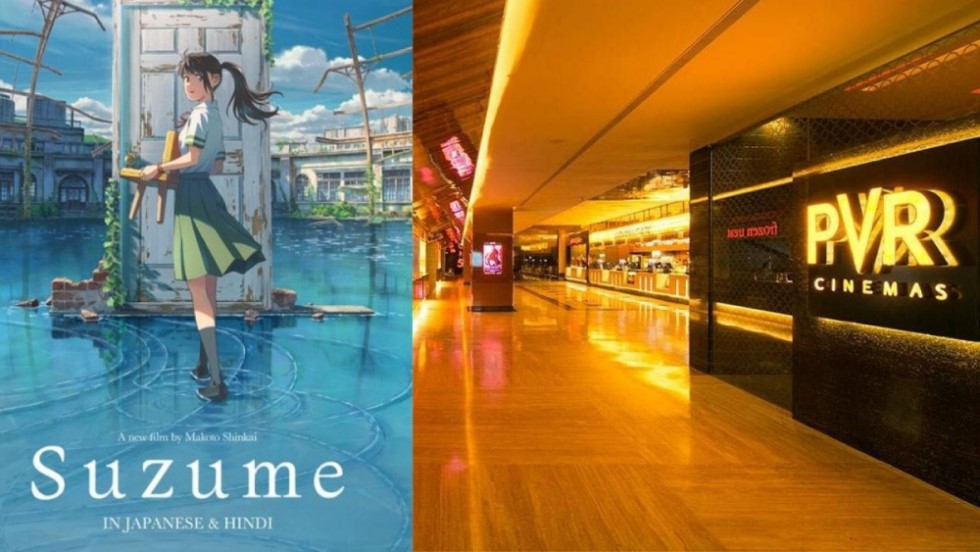 The official Twitter handle of Japan Film Festival India (JFF India) announced on May 29,2023 that Makoto Shinkai's latest blockbuster "Suzume No Tojimari" or "Suzume" has bagged over Rs. 10 crore in India (USD $1.2 million), making it the highest-grossing Japanese anime film in the subcontinent.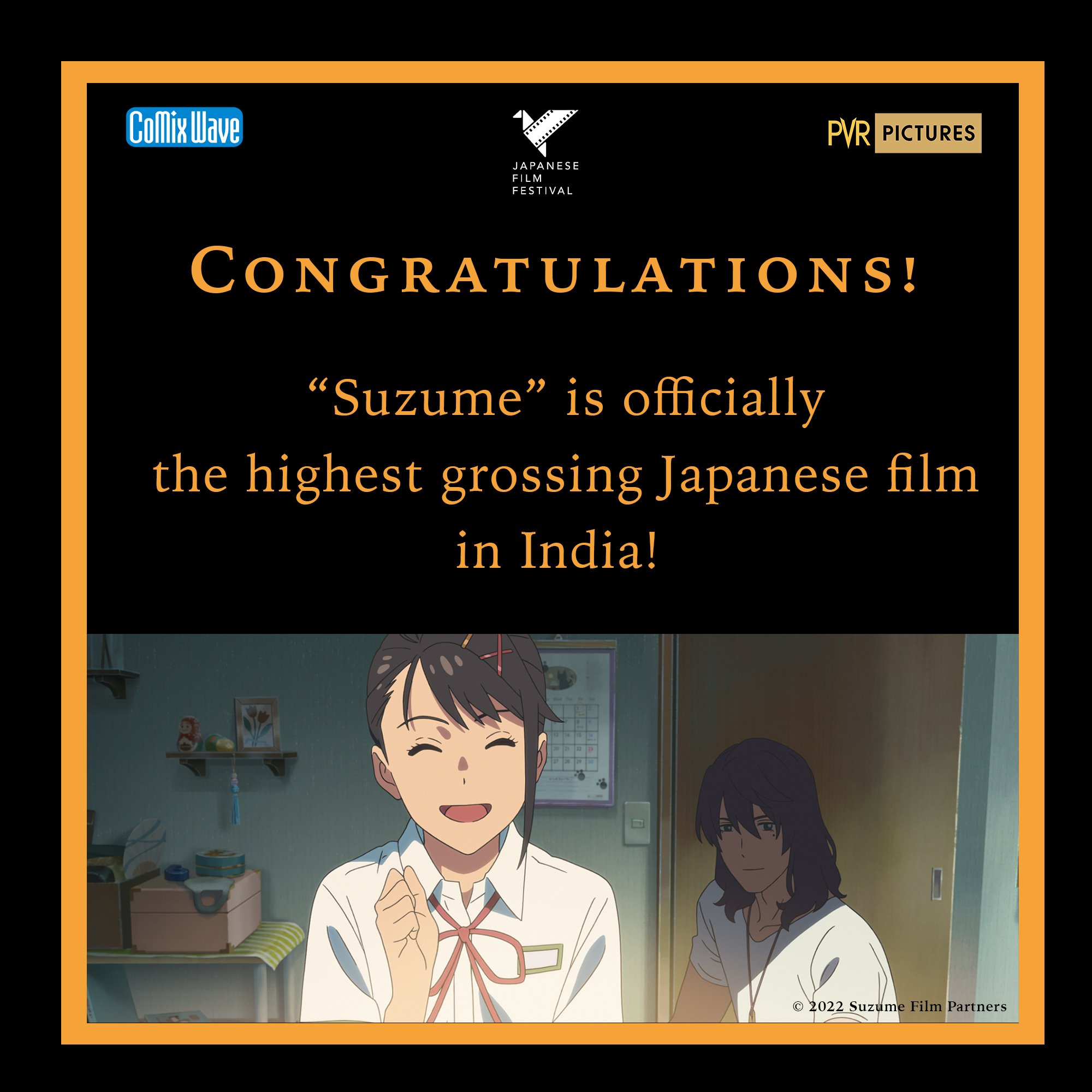 It has surpassed the cumulative earnings of the previous highest-grossing film, Jujutsu Kaisen 0, which was approximately Rs. 9.4 Crore (USD $1.14 million).
In Japan, the screening of Suzume No Tojimari came to an end on May 27, nd recorded a final box-office revenue of approximately 14.79 billion yen (US$105.3 million), surpassing Shinkai's previous film "Weathering With You", which was released in 2019 and bagged a collection of approximately 14.23 billion yen.
The number of spectators reached approximately 11.15 million, thus becoming responsible for the film to become the 14th highest-earning film, as well as the 8th highest-earning anime film of all time in Japan.
The official Twitter account of Suzume released a special clip, celebrating its worldwide success.
/
🎊映画『 #すずめの戸締まり』が
"すずめ旋風"を巻き起こしています🎊
\

🏅海外動員が3,500万人を突破!

🎖全世界動員が4,600万人を突破!

💫海外興収が280億円を突破!

🌏全世界興収が420億円を突破!

🇨🇳中国の興収が8億元を突破!

🇮🇳インドで日本映画史上No.1興収を記録! pic.twitter.com/cEC5C2CO5l

— 映画『すずめの戸締まり』公式 (@suzume_tojimari) May 23, 2023
Director Makoto Shinkai visited India to promote the movie on April 19-20, 2023, and was delighted to meet creators, influencers and so many fans in the country, as he mentioned in the following video, showing his appreciations to India for making Suzume a big hit!
#MakotoShinkai is here expressing his gratitude for making #Suzume a big hit in India and also inviting you all to attend the #ShinkaiFestival organized by PVR INOX Pictures, in collaboration with #JapanFoundation, #JapaneseFilmFestival and #CoMixWaveFilms!
The festival will… pic.twitter.com/9L3bms6Jkm

— P V R C i n e m a s (@_PVRCinemas) May 24, 2023
Following Suzume's huge box office success in India, Koji Sato, Director General of Japan Foundation New Delhi, stated, "We are very happy to hear that many Indian people enjoyed the beautiful masterpiece Suzume."
Furthermore, the CEO of PVRINOX Pictures, Kamal Gianchandani, noted, "The Indian Otakus have welcomed this distinctive storytelling method, colourful graphics, and cultural intricacies portrayed in anime, fostering a greater appreciation and understanding of Japanese culture." We look forward to displaying more exceptional work in the future."
Makoto Shinkai previously visited India during the premiere of Weathering With You anime movie in 2019 as well.
Suzume No Tojimari is his seventh feature film, and it was released in Japan on Nov 11, 2022.
And, the movie is set to release in India on April 21, 2023.
Shinkai directed and wrote the screenplay for Suzume no Tojimari. He's also the author of the original story.
Other staff members of the movie include:
Character design: Masayoshi Tanaka
Animation director: Kenichi Tsuchiya
Art director: Takumi Tanji
Studio: CoMix Wave Film
Production producer: STORY inc.
Distribution: Toho Animation
Makoto Shinkai is most popularly known for his 2016 fantasy romance movie Your Name which was a critical and commercial success.
The movie became the third highest-grossing anime film of all time.
The officially announced story of Suzume no Tojimari is described as:
Suzume is a 17-year-old, who lives in a quiet town in Kyushu. One day, she meets a traveling young man who is looking for a "door." Suzume decides to follow him and discovers an old door in the ruins in the mountains. As if drawn by something, Suzume reaches out for the door… What follows is Suzume's liberation and growth as she closes the "doors" that cause misfortune in abandoned places around Japan.
Source: JFF India Official Twitter, beeboom