One Piece Animator Sheds Light On Why Haki Auras Are Used In The Anime
Auras in the One Piece manga exists but directors thrown in their own flavor to make it extravagant.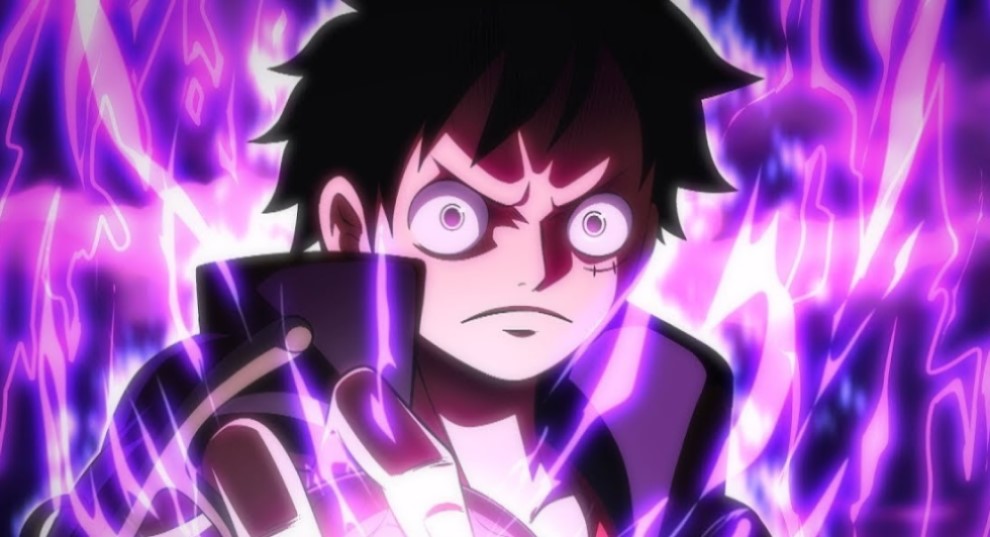 Henry Thurlow, one of the Key Animators for the One Piece anime, answered a heavily debated question fans have been asking for a long time regarding infamous Haki auras.
On April 16, Henry remarked on One Piece episode 1058 animation, saying that the staff have re-used his Zoro animation (recolored & retimed). Though he's clearly got tired of the subject matter, he raises the "aura" question again, saying that the aforementioned Zoro animation & Jinbei's "Fisher Tiger" sequences are the only 2 things he's drawn with aura in One Piece.
(The man isn't escaping the aura allegations anytime soon.)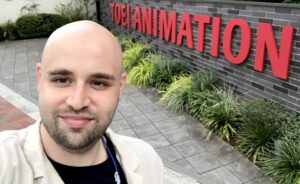 But he finally addressed the question when a fan inquired about it in the comments of the tweet and answers as follows:
Manga is Black & white on vertical pages. Things need to be re-thought entirely when adapted to film/anime. There *is* aura in the manga, but it doesn't pop as much. The series & ep directors decide what to show & how to show it.
Henry's not wrong in that. The manga definitely has aura and the anime enhances it in a better fashion.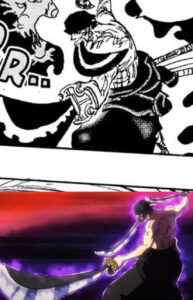 However, sometimes directors let their imaginative spirits get the better of them and include colors that don't belong there.
Is Zoro unlocking a Super Saiyan transformation in the next episode or something? Wth is this 😂 pic.twitter.com/yNkk5jl5A3

— ⚡️ Soulstorm ⚡️ (@Soul_StormOP) April 16, 2023
But the readers should keep in mind that this is not entirely on Henry's head.
In the past, he mentioned in couple of tweets that he doesn't have full control on what gets added onto the animation and cannot change the model sheets the lead directors & producers have already set in stone.
Update: I'm getting new messages saying "Just wanna say you're doin great! Ignore the haters but please change aura colors"
LOL
You miss the point. I (nor even ep-directors) can just CHANGE things decided by the model sheets the lead directors & producers've already set in stone.

— Henry Thurlow (@henry_thurlow) July 28, 2022
Even after saying all that, the fandom continues to accuse him of being the "aura man". But funnily enough, that doesn't stop Henry from screwing with them once in a while.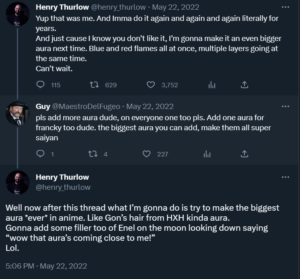 Henry Thurlow is an American animator currently residing in Tokyo, Japan working on One Piece anime full-time. He worked as a Flash animator for years, but now mostly work traditionally in Japan on anime.
Below is a list of what he's worked on:
2006:

Introductions at Dawn (Short film *original creator*)
2007:

Candy Land: Dora the Explorer Edition (Game)
Go, Diego, Go!: Safari Rescue (Game)
2008:

Superjail (TV series season 1)
2009:

MGMT "Kids" (Music Video)
Sloth (Web series)
2010:

Ke$ha "Your love is my Drug" (Music Video)
2012:

Deep space 69 (web series)
2013:

Pokemon Origins (TV special)
Tokyo Ravens (TV series)
ワルキューレ ロマンツェ (TV series)
2014:

それでも世界は美しい (TV series)
Tokyo Ghoul (TV series)
Baby Steps (TV series)
暁のヨナ (TV series)
Naruto Shippuden (TV series)
-The Last- Naruto the Movie (Movie)
2015:

Judgment and Justice (Short film *original creator*)
Tokyo Ghoul √A (TV series)
ONE PIECE Episode 1058 released today on April 16, while the ONE PIECE manga will take a week off before returning with Chapter 1081 on April 23. The anime is available on Crunchyroll, while the latest chapter of the manga may be read for free on either the VIZ or the MANGA Plus websites.
Source: Twitter