Naruto 20th Anniversary Special Anime Postponed!
The anime has been delayed due to production issues
On Tuesday, the official website for the Naruto franchise announced shocking news to fans. The new animated episodes that were scheduled to air in September as part of the Naruto 20th Anniversary Event, have been postponed due to production issues.
In the official statement published on the website, the Production Committee states that they want to deliver a higher quality product as this is the first work produced for the series in over six and a half years.
Here is a translation of the official message: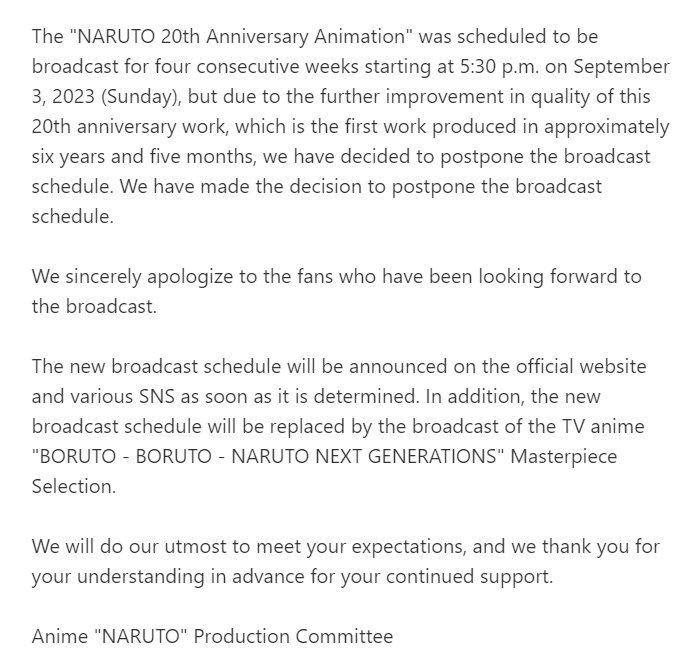 The original anime was previously announced in March as the Boruto: Naruto Next Generations anime came to an end.
Instead of the new episodes, BORUTO-BORUTO-NEXT GENERATIONS Masterpiece Selection will be aired in the episode's time slots in September.
The Production Committee also stated that fans will be updated about the new broadcast schedule as soon as the new schedule is formed.
They also thanked the fans for their support and apologized for the delay.
The new Naruto episodes were a part of multiple events like the biggest character poll to celebrate 20 years of the series. 
A PV was released to commemorate the 20th anniversary in October 2022 as well.
Naruto manga, written and illustrated by Masashi Kishimoto, was serialized in Shueisha's magazine, Weekly Shonen Jump from 1999 to 2014, and released in tankobon (book) form in 72 volumes.
Viz Media licensed the manga and anime for North American production and serialized Naruto in their digital Weekly Shonen Jump magazine.
Naruto is one of the best-selling manga series in history having 250 million copies in circulation worldwide in 47 countries and regions.
Out of this, 153 million copies were sold in Japan alone, and the remaining 97 million copies worldwide.
The Naruto anime was produced by Studio Pierrot and TV Tokyo. It premiered in Japan on October 3, 2002, and concluded on Feb 8, 2007.
The anime aired 220 episodes in total.
Naruto: Shippuden, developed by Studio Pierrot, is the sequel to the original Naruto anime. Naruto: Shippuden adapts Part II of the manga.
The anime began on February 15, 2007, and ended on March 23, 2017.
Source: Naruto