Mashle: Magic And Muscles Anime Opening & Ending Themes Revealed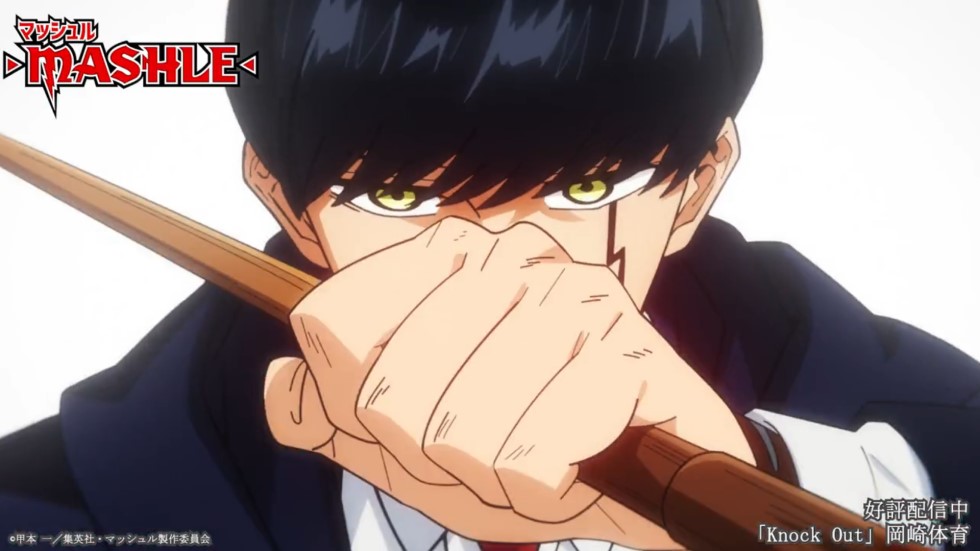 The non-credited opening theme for Hajime Komoto's Mashle: Magic and Muscles anime adaptation has been officially unveiled on April 14!
Taikku Okazaki performed the opening theme song "Knock Out"!
Musical group Philosophy no Dance performed the ending theme song "Shu Cream Funk" (Cream Puff Funk). The clip released on April 7.
Additionally, a character PV featuring Lemon Irvine voiced by Rena Ueda.
The cast members voicing the main characters include:
Chiaki Kobayashi as Mash Burnedead
Reiji Kawashima as Finn Ames
Kaito Ishikawa as Lance Crown
Takuya Eguchi as Dot Barrett
Reina Ueda as Lemon Irvine
Hiroaki Hirata as Narrator
The staff working on the anime includes:
Director: Tomonari Tanaka
Series Composition: Yousuke Kuroda
Character Designer: Hisashi Higashijima, along with Saki Hisamatsu, Nozomi Goto
Music: Masaru Yokoyama
Animation Director: Takeshi Matsuda, Hiroaki Goda
Art Director: Ito Yusa
Cinematographer: Akihito Suzuki
CGI Director: Daisuke Fukuda
Sound Director: Satoshi Motoyama
Sound Effects: Yui Ando
The staff of the anime had previously stated that Mashle manga will be completely animated. The plot of the anime is described as follows:
This is a world of magic.
This is a world in which magic is casually used by everyone.
In a deep, dark forest in this world of magic, there is a boy who is singlehandedly working out.
His name is Mash Burndead and he has a secret. He can't use magic.
All he wanted was to live a quite life with his family.
But people suddenly start trying to kill him one day.
And he somehow finds himself enrolled in Magic School.
There, he sets his sights on becoming the 'Divine visionary', the elite of the elite.
Will his ripped muscles work against the best and brightest of the wizarding world?
The Mashle anime series began airing on April 7 and subsequent episodes will release every Friday!
Source: YouTube