Classroom of the Elite Season 3 Trailer Teases A Deadly Field-Trip Setting
Season 3 is set to release in January 2024.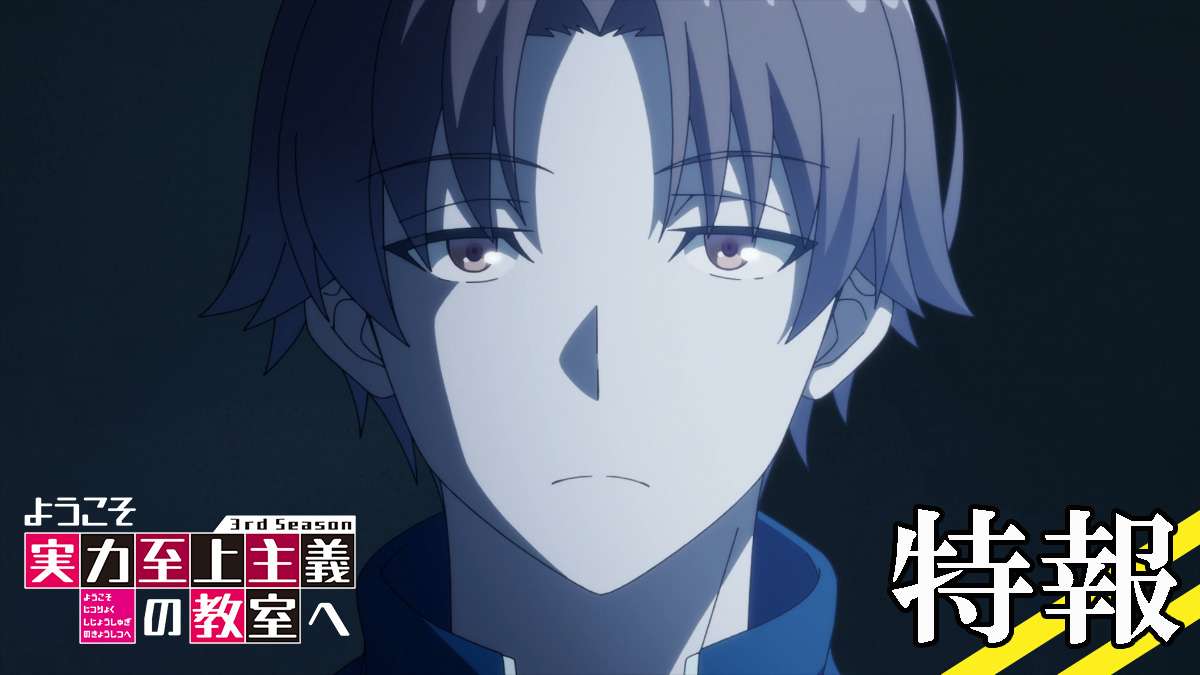 The official website for Classroom of the Elite anime unveiled a new trailer for its 3rd season on Nov 8, 2023, further announcing that Ayanakouji and his entire class will return in January 2024.
In the latest trailer for the upcoming season, the students of Tokyo Koudo Ikusei Senior High School go on a field trip, but if you know anything about Classroom of the Elite, it's far from any ordinary field trip the students are going for, as it'll definitely involve an insanely difficult test.
Earlier in July, the 1st key visual for Classroom of the Elite Season 3 was first revealed at the MF Bunko J Summer School Festival livestream, which also signaled the confirmation of said season.
The cast and staff members for the anime series are as follows:
<Staff Members>
Original story: Akio Kinugasa (MF Bunko J "Classroom of the Elite"/ published by KADOKAWA)
Character Planning: Tomose Shunsaku
General Director: Seiji Kishi & Hiroyuki Hashimoto
Director: Yoshito Nishoji
Series composition: Yasushi Shigenobu, Hayato Kazano
Character Design: Kazuaki Morita
Art Director: Satoru Hirayanagi
Art Director: Hane Hirofumi
Color Designer: Hiroaki Kaguchi
CG Director: Tomohiro Hirayama
Director of Photography: Naoki Serizawa
Editing: Yukie Oikawa
Music: Katsu Yokoyama, Kana Hashiguchi
Sound Director: Satoki Iida
Sound Effects: Koreki Okuda
Animation Production: Lerche
Production: Classroom of the Elite Season 3 Production Committee
<Cast Members>
Kiyotaka Ayanakouji: Shoya Chiba
SAKAYANAGI Arisu: HIDAKA Rina
Suzune Horikita: Akari Kito
Kushida Kikyo: Kubo Yurika
Karuizawa Megumi: Taketatsu Ayana
Hirata Yosuke: Osaka Ryota
Rokusuke Koenji: Toshiki Iwasawa
Honami Ichinose: Nao Higashiyama
Masayoshi Hashimoto: Yohei Azaue
Sho Ryuzono: Masaaki Mizunaka
Hiyori Shiina: Riyo Takahashi
Manabu Horikita: Yuichiro Umehara
Masashi Nagumo: Souma Saito
The TV anime is based on the light novel Classroom of the Elite, written by Shougo Kinugasa and illustrated by Tomose Shunsaku.
The light novel was published in Media Factory's MF Bunko J imprints from May 2015 to September 2019.
In January 2020, a sequel to the light novel titled Classroom of the Elite: Year 2 began publishing and the original story also received a manga adaptation by Yuyu Ichino in January 2016.
Yuyu started the serialization of the manga in Media Factory's Monthly Comic Alive.
Later in December 2021, Shia Sasane illustrated the manga adaptation of Classroom of the Elite: Year 2.
The TV anime adaptation was made on July 12, 2017, by Studio Lerche and aired for 12 episodes.
On July 4, 2022, Lerche released the second season of the anime, finishing on September 26 with 13 episodes.
Crunchyroll describes the anime's first season as:
Kiyotaka Ayanokoji has just enrolled at Tokyo Koudo Ikusei Senior High School, where it's said that 100% of students go on to college or find employment.
But he ends up in Class 1-D, which is full of all the school's problem children. What's more, every month, the school awards students points with a cash value of 100,000 yen, and the classes employ a laissez-faire policy in which talking, sleeping, and even sabotage are permitted during class.
One month later, Ayanokoji, Horikita, and the students of Class D learn the truth of the system in place within their school…