Boys Over Flowers Manga Sets Guinness World Record As "Most Published Shojo Manga"
The manga has over 59,409,000 copies published and circulated in print alone.
On April 20, 2023, the official website of Shonen Jump disclosed that Boys Over Flowers (Hana Yori Dango), a shojo manga by Yoko Kamio, has been certified by the Guinness World Record as the 'Most Published Shojo Manga by a Single Author'.
The manga has over 59,409,000 copies published and circulated in print alone!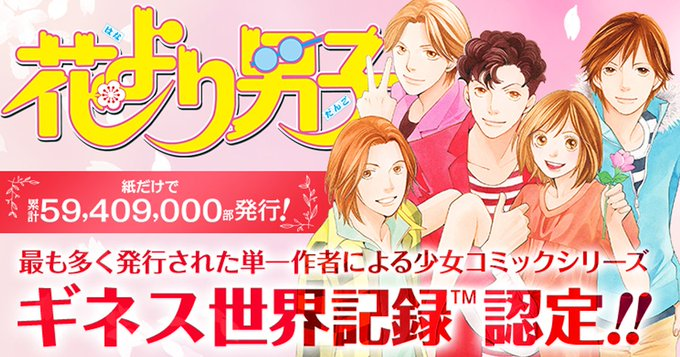 Yoko Kamio, the mangaka, has conveyed her enthusiasm regarding this fresh achievement on the 30th anniversary of the manga and also extended gratitude to all the readers for their unwavering support.
She further revealed that the franchise will host an exhibition featuring the original drawings, beginning in April 2023.
"I am very happy to be recognized by Guinness World Records™ on the occasion of the 30th anniversary of Boys Over Flowers. I believe this record is made possible by the support of so many readers. Thank you very much. We are also pleased to announce that we will be holding our first exhibition of original drawings from April. Please come and meet Tsukushi and F4!"
Boys Over Flowers manga was launched in Margaret magazine by Shueisha in October 1992, and its serialization continued until January 2004.
Two additional epilogue chapters were subsequently published in Margaret, one in July 2006 and the other in January 2008.
The English translation was published by Viz Media from August 2003 to October 2009.
The manga has been adapted into various mediums.
MAL describes the plot of manga as:
Tsukushi Makino, a working-class girl, attends an elite elevator school called Eitoku Academy, populated by children from rich, high-society families. She is the "weed" of the school surrounded by all the rich kids including the "Flower" Four (F4).
The F4 leader and son of the wealthiest, most powerful family in Japan, Tsukasa Domyoji, takes an interest in Tsukushi, because she is the only girl at Eitoku who doesn't fawn over him. However, his hot-headed nature and bullying ways are originally a major turn-off for Tsukushi, who has her sights set on someone else.