Jujutsu Kaisen Chapter 229 Spoilers: Sukuna Summons Mahoraga!
Gojo finally hits Sukuna with Unlimited Void.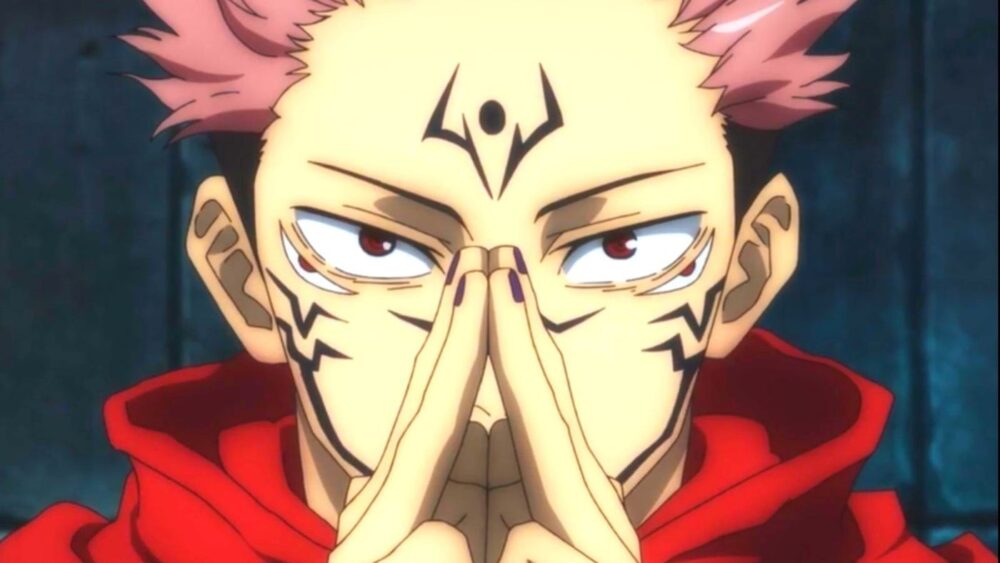 The spoilers for chapter 229 of the Jujutsu Kaisen manga are here and Sukuna summons Mahoraga!
Disclaimer: These as spoilers and not the official release of the chapter, kindly read them with a grain of salt.
Jujutsu Kaisen Chapter 229 Spoilers:
The chapter continues the fight between Gojo and Sukuna.
Gojo pays no mind to the nosebleed and wipes it off as both cast their domain expansion once again.
Seeing Sukuna use domain expansion again, Angel infers that Sukuna can also regenerate burned-out cursed energy using the reverse cursed technique.
According to Kusakabe, Gojo will again have to deal damage to Sukuna. So that he can't maintain his domain as Sukuna would destroy his domain from outside.
Shoko does not see this situation as unfavorable.
According to her, if Gojo's domain hits Sukuna for even a few seconds, he will be incapacitated.
Shoko continues by saying that if the shrine collapses within 3 minutes, Gojo will win!
Without wasting a breath, Gojo starts his assault on Sukuna inside the domain. Gojo punches him and throws him around, he then pulls Sukuna and tries to land a punch.
Sukuna blocks the attempt, and the next moment, both domains break down, and this time his face is damaged.
Miwa says that in domain battles, Gojo is stronger. Yuji says to himself that Gojo will win.
Both fighters again open their domains, but this time something different happens.
Since Sukuna went to his body first and then his burn-out cursed technique, his domain expanded after 0.01 seconds of Gojo's domain.
These 0.01 seconds were enough to delay Sukuna. As a consequence, the Malevolent Shrine collapses within 3 minutes inside Gojo's barrier!
Sukuna finally gets hit by the Unlimited Void.
Gojo runs towards Sukuna as he says to himself that he needs to crush his heart and bring his lungs closer to his liver.
He wants to bring Sukuna closer to death than he was in Yuji's body during the incident at the Juvenile detention center.
But Sukuna finally calls Mahoraga as he chants,
With this Treasure, I Summon Eight-Handed Sword: Divergent Sila Divine General Mahoraga!
Gojo quickly gets ready to destroy Mahoraga in a single hit before it adapts to the Unlimited Void.
Unfortunately, Mahoraga destroys Unlimited Void from inside! Gojo is shocked at how quickly Mahoraga adapted to the domain.
The chapter ends here, and the series will take a break next break!
You can read the chapter when it officially comes out on Viz Media's official website.
Stay tuned for more Jujutsu Kaisen and other Shonen-related articles.