Yor Forger Goes Into Battle Mode In New Spy X Family Visual
The first visual features Yor fighting with a mysterious villain.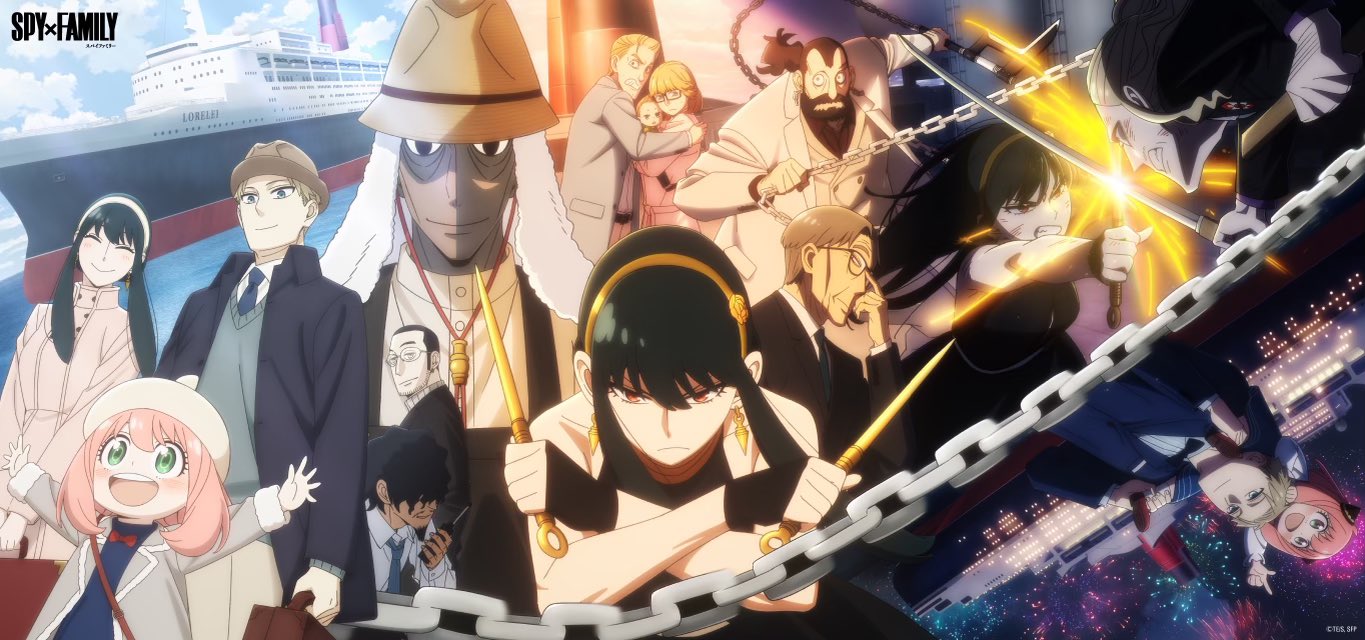 On Saturday, the official Twitter account for the SPY x Family anime revealed two new visuals for the second season of the anime.
The first visual features Yor fighting while Anya and Loid are enjoying their vacation.
/

MISSION:32
本日23時15分より放送🛳⚓️

大型メインビジュアル第三弾公開🎉✨

\

※放送時間が通常と異なりますのでご注意ください。

第一弾・第二弾のビジュアルはこちら🔽https://t.co/cMzX8YCkcg#SPY_FAMILY #スパイファミリー#豪華客船編 pic.twitter.com/xyqu7WRPfP

— 『SPY×FAMILY(スパイファミリー)』アニメ公式 (@spyfamily_anime) November 18, 2023
The second visual features Yor in the center, with the left side of the visual showing the family on their happy vacation, while the other side shows the fights Yor has to engage in.
The following image combines the key visuals released for episodes 30-32 into one whole new key visual.
/

大型メインビジュアル完成版公開🎉✨

MISSION:32
本日23時15分より
テレビ東京系列他にて放送📺

\

ビジュアルはキャラクターデザイン#嶋田和晃 さん描き下ろしです🎨

皆様、本日の放送もお楽しみに👏#SPY_FAMILY #スパイファミリー pic.twitter.com/A1QKNsIIGh

— 『SPY×FAMILY(スパイファミリー)』アニメ公式 (@spyfamily_anime) November 18, 2023
The anime and the December 2023 movie, SPY x FAMILY CODE: White will be produced at Wit Studio and CloverWorks. A new trailer and poster was released. 
About Spy X Family:
Spy × Family is a Japanese manga series written and illustrated by Tatsuya Endo.
The series has been serialized bi-weekly on Shueisha's Shōnen Jump+ application and website since March 2019, with the chapters collected in twelve tankōbon volumes as of October 2023.
An anime television series adaptation produced by Wit Studio and CloverWorks premiered on TV Tokyo and its affiliate stations in April 2022, and was licensed by Muse Communication in Asia and Crunchyroll worldwide.
The second half aired from October to December 2022. A second season premiered in October 2023 and an anime film, titled Spy × Family Code: White, will be released in December 2023.
By September 2023, Spy × Family had over 31 million copies in circulation, making it one of the best-selling manga series.
Crunchyroll describes the overall plot of Spy X Family as follows:
World peace is at stake and secret agent Twilight must undergo his most difficult mission yet—pretend to be a family man.
Posing as a loving husband and father, he'll infiltrate an elite school to get close to a high-profile politician.
He has the perfect cover, except his wife's a deadly assassin and neither knows each other's identity. But someone does, his adopted daughter who's a telepath!