Undead Girl Murder Farce Anime Reveals New PV And Visual
The anime debuted on July 5
On Tuesday, the official website for the anime adaptation of Yugo Aosaki's Undead Girl Murder Farce novels revealed a new Promotional Video and a new visual for the anime.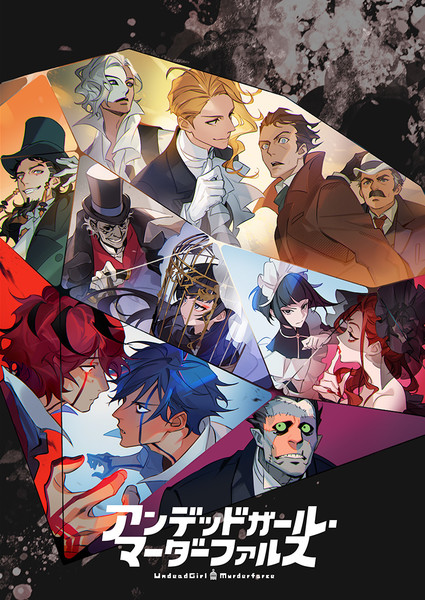 The anime's cast includes:
Shin'ichirō Kamio as Reynold Stinghart
Sara Matsumoto as Fatima Double Darts
Hideaki Tezuka as Phileas Fogg
Hidenari Ugaki as Passepartout
Taiten Kusunoki as Lestrade
Kousei Hirota as Ganimard
Tomoyo Kurosawa as Aya Rindo
Taku Yashiro as Tsugaru Shinuchi
Makoto Koichi as Shizuku Hasei
Sayumi Suzushiro as Annie Kerber
Shinichiro Miki as Sherlock Holmes
Masaki Aizawa as John H. Watson
Mamoru Miyano as Arsene Lupin
Hiro Shimono as Phantom
Wataru Yokojima as James Moriarty
Tomokazu Sugita as Aleister Crowley
Reina Kondo as Carmilla
Itaru Yamamoto as Victor
Sōma Saitō as Jack the Ripper
The anime debuted on July 5 and Crunchyroll streams the series worldwide excluding Asia as it airs in Japan under the Undead Murder Farce. 
The staff is as follows:
Director: Mamoru Hatakeyama
Composition: Noboru Takagi
Character Design: Noriko Itou (original design by Zeorogo Iwamoto)
Chief Animation Director & Sub-Character Designer: Naho Kozono
Music: Yuma Yamaguchi
Sound Director: Kazuhiro Wakabayashi
Aosaki launched the novel series in 2015. In June 2016, Haruka Tomoyama released the manga version of the Aosaki story in Kodansha's Monthly Shonen Sirius magazine.
Since then, it has switched to the Nemesis magazine in June 2017. Later, it shifted to the Comic Days website in September 2018.
Kodansha USA Publishing licensed the manga adaptation, and it describes the story as:
The end of the 19th century—a vampire's wife is murdered, and the detective known as the "cage user" is called in to solve the crime. But there's more to the detective and the curtained birdcage he carries…after all, when solving a case involving a monster, it might just take one to know one!
Source: