The Concierge Anime Movie New Theme Song Video Released
The film is set to premiere On October 20 in Japan.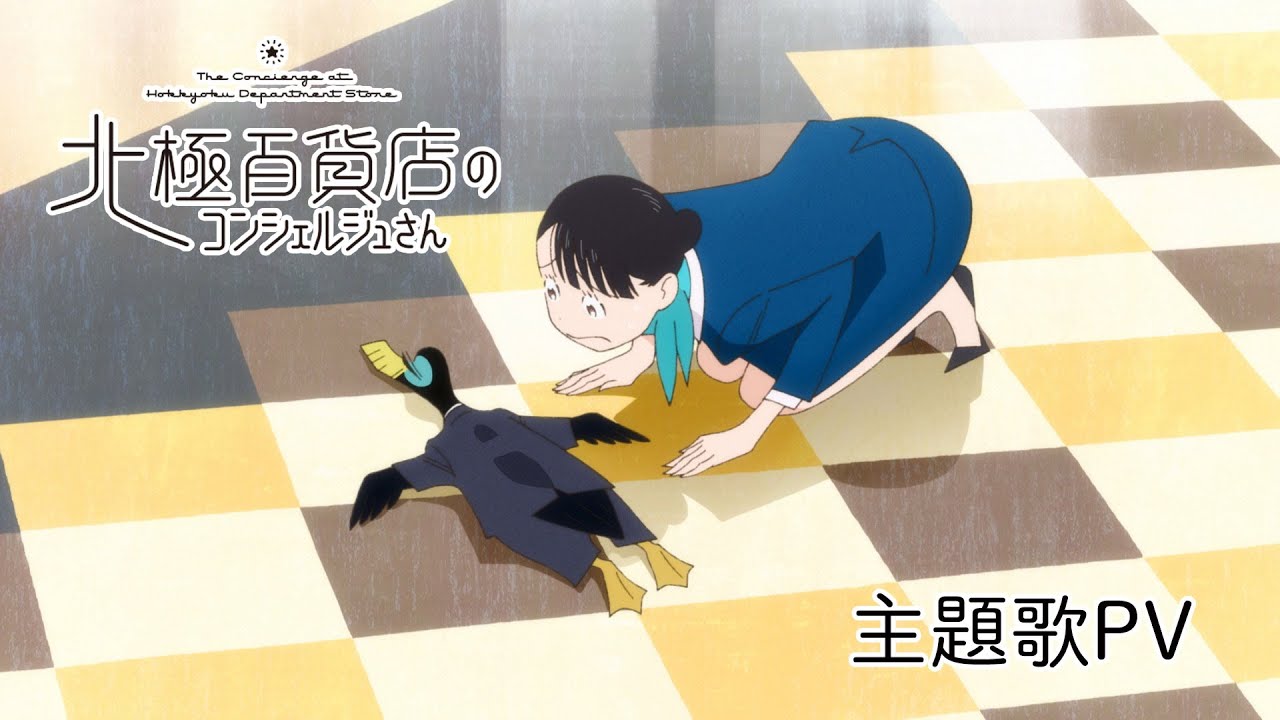 During the Aniplex Online Fest 2023 livestream, a new video for The Concierge, an anime movie based on Tsuchika Nishimura's The Concierge at Hokkyoku Department Store manga. The video previews the movie's theme song "Gift" by singer-songwriter Myuk.
The film is set to premiere On October 20 in Japan.
The previously announced cast is as follows:
Natsumi Kawaida as Akino, the protagonist
Takeo Ōtsuka as Elulu, a penguin who always wanders around the store
Nobuo Tobita as Tōdō, the ever-present floor manager
Megumi Han as Mori, a senior concierge
Natsumi Fujiwara as Iwase, a senior concierge
Eiji Yoshitomi as Maruki, a veteran concierge
Jun Fukuyama as the Maître d' of the store's restaurant
Yūichi Nakamura as Tokiwa, a salesman who looks sternly at Akino
Kenjiro Tsuda as Wally
Danshun Tatekawa as Laughing Owl (Husband)
Sumi Shimamoto as Laughing Owl (Wife)
Minako Kotobuki as Sea Mink (Daughter)
Hiroshi Yanaka as Sea Mink (Father)
Hiroki Nanami as Male Peacock
Marika Kano as Female Peacock
Miyu Irino as Japanese Wolf
Kana Hanazawa as Female Japanese Wolf
Ayumu Murase as Barbary Lion
Emiri Suyama as Female Barbary Lion
Kyoko Hikami as Caribbean Monk Seal
Risa Shimizu as Paradise Parrot
Sumire Morohoshi as Cat
The staff includes:
Director: Yoshimi Itazu
Scriptwriter: Satomi Ooshima
Music Composer: tofubeats
Chief Animation Director, Character Designer: Chiyo Morita
The manga was first published by Nishimura in Shogakukan's Big Comic Zkan magazine in November 2016; it was completed in two volumes in 2020. The manga was given the Excellence Award at the 25th Japan Media Arts Festival Awards in 2022 by the Ministry of Cultural Affairs.
MAL describes the anime movie as:
"The word 'no' doesn't exist in a concierge's dictionary." That's just one of the demanding rules that Akino must abide by in her new job as a saleswoman at the elegant and expansive Hokkyoku Department Store.
It's a very special store — the customers are all animals, and the most valued among them are of extinct species.
Sea minks, laughing owls, Japanese wolves, even an enormous mammoth — that's Mr. Woolly, the celebrated sculptor whose works are showcased at the store.
It's still a luxury retail space, though, and anxious Akino finds her hands full with the customers' challenging requests.
These range from hard-to-find merchandise to more complicated matters of the heart.
Can the inexperienced Akino fulfill their whims and meet their expectations? If she wants to keep her job, she'll have to succeed while under constant observation by the fussy floor manager Mr. Todo, a creepy consultant eager to downsize the staff, and the store's enigmatic president (who is not a penguin, by the way!).
Source: Aniplex Online Fest Livestream 2023