Studio MAPPA Slandered After Fans Witness Jujutsu Kaisen Episode Director Breaks Down On Twitter
In May 2021, popular animator Mushiyo also revealed the poor working environment at MAPPA.
Japanese animation studios are famous for their harsh working conditions and poor payment of their animators.
MAPPA is at the forefront of such practices. MAPPA's latest episode of Jujutsu Kaisen (Season 2 Episode 14) just came out with stunning animation and art.
Along with it came a series of tweets from the director and storyboard artist of the episode, Hokuto Sadamoto.
These tweets have worried the fandom, as the director calls himself trash and a scumbag for his work on the episode.
On October 27, Hakuto tweeted,
"I once ran away to a game production company, because I thought I can't keep up with anime. Misunderstood that I was needed and came back casually; maybe it was correct for me to be finished off like this. This wasn't a place for a sucker like me to come back."
After seeing this, many fans came to support them, stating how they enjoyed the episode, although it seemed to have worked differently for them.
みんなは俺みたいなクズじゃないから、みんなの言う同情や励みが本心からのものだろうとは分かるが、納得のいかないものを世に出してしまった直後にそういうのは逆に効くので、今はただ…そっとしといて欲しい。
今後の仕事で巻き返す。それまでは大作を汚した最低アニメーターとして生きる。

— 貞元北斗 Hokuto. S (@azureoekaki) October 26, 2023
"Everyone is not a trash like me, so I know the sympathy and cheers are from the bottom of your heart. But those hit hard after you release something that is unacceptable. So please, it would help me if you leave me alone for now. I'll make it up for the jobs in the future. I'll live as the worst animator that spoiled a masterpiece."
Animators like Hokuto Sadamoto were so unsatisfied with their work that they state they ruined the work others did on the episode.
アバンの新沼さんのパートが本当に最高だったから、余計悲しい。なにもかも汚してしまった。

— 貞元北斗 Hokuto. S (@azureoekaki) October 26, 2023
"The A part was really awesome, so it's making me feel more pathetic. I've ruined everything."
They were feeling all this because they were not able to bring their vision to life as they wanted in the episode. That desire stemmed from the desire to be faithful to Jujutsu Kaisen's author Gege Akutami's material and mindset.
Hokuto Sadamoto said:
"I heard Akutami-san (Gege) likes war games, I love them too so I wanted to make something that has the taste of it. I wanted to make the domain look other worldly by makings things pop and fly. I'm sorry for everything."
Keep in mind this isn't due to the section of the fandom complaining about the animation quality. It's because of the tight schedules that Hokuto was given to work on, including 250 cuts in just 2 weeks!
The director began ranting on Twitter only when the leaks of the staff members working on Jujutsu Kaisen Season 2 Episode 14, describing these fans as "discerning".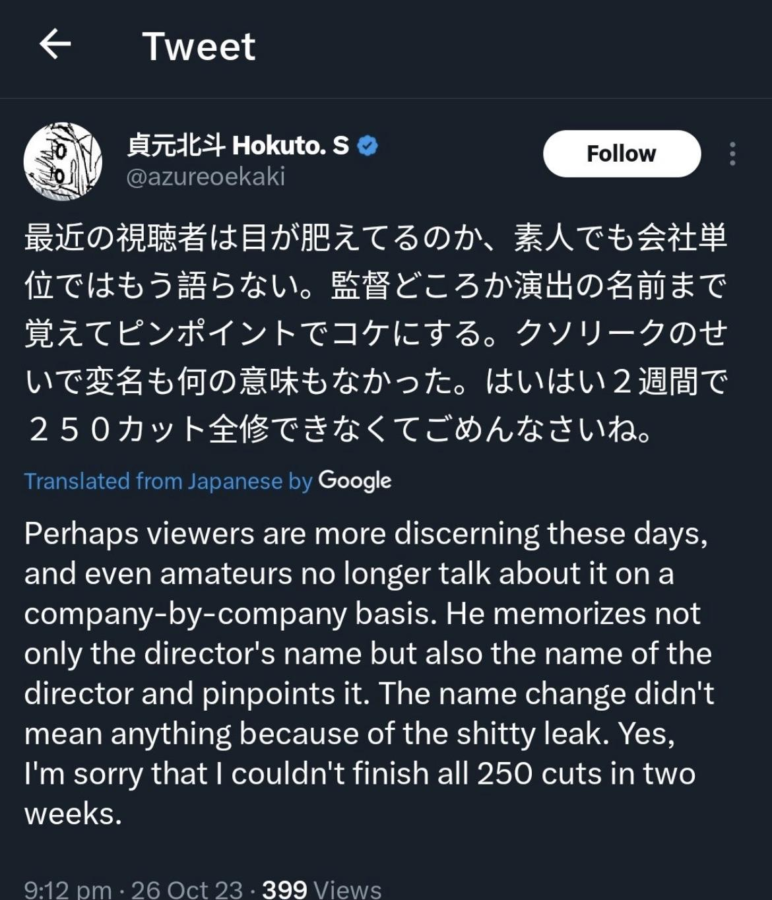 He even tried to learn and do what others had done in such cases.
理想は突貫工事をそもそもやらないことだけど、それは避けられないから、原点である高松さんをもっと研究しないといけん。

— 貞元北斗 Hokuto. S (@azureoekaki) October 27, 2023
"Ideally, we should not rush into the project in the first place, but that is not an option, so we need to learn more about Mr. Takamatsu, the origin of the project."
The stress of working in the Jujutsu Kaisen anime team was so great that on October 25, Hokuto almost COMPLETELY broke down, saying he feels lost and isn't ready to be working in the animation industry.
かつてない喪失感が襲ってきている。今後大きなこと言わずに業界の隅っこでビジネスライクにやって、誰からも弔われないまま静かに死んでいく心の準備が足りなかったかもしれない。それくらい覚悟してると思ってたけど、あまりにも現実感がなかっただけかもしれない。

— 貞元北斗 Hokuto. S (@azureoekaki) October 25, 2023
"I'm getting a sense of loss I've never had. Maybe I wasn't ready to die in silence without being mourned by anyone at the edge of this industry, without boasting out and having business-like manners. I thought I was dedicated for it, but maybe it was not too real for me."
This is not the first time that an animator has suffered from the stressful work environment at MAPPA.
In May 2021, popular animator Mushiyo released a fiesty Twitter thread, announcing that he had left the company.
In the threads, he shared that he was asked to do four tasks at once.
The fire only grew when a video of Attack on Titan Season 4 Part 2 director Hayashi Yuichiro went viral.
The video was made to highlight his amazing talent at work.
Attack on Titan x 100 CAM – Yuichiro Hayashi pic.twitter.com/GWxmaE8r9g

— Attack on Titan Wiki (@AoTWiki) February 19, 2023
In the video, he looked extremely exhausted with huge eye bags. Many fans expressed their concern over this.
This time too, fans came in to support Hokuto. Many pointed out how good the episode was.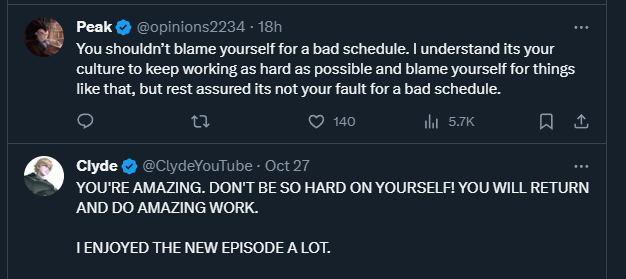 Source: Twitter of Hokuto and JJKTLMAX, Epic Stream, The Mary Sue