Quintessential Quintuplets Anime Announces New Beach Special!
The anime special is screening in Japanese theaters for three weeks from July 14. 
On Friday, the staff for The Quintessential Quintuplets ∽ anime released a trailer for a new special.
The trailer features the quintuplets in swimsuits with the theme song "Gotōbun no Mirai" (Quintuplet Future) playing.
The staff announced that fans will be given mini shikishi illustrations with the quintuplets in swimsuits to audience members starting on July 14.
The illustrations will include a QR code to view an original video online.
From the cast, Ayana Taketatsu and Miku Ito will appear for a stage greeting at the July 16 screening at Tokyo's Shinjuku Wald 9 theater.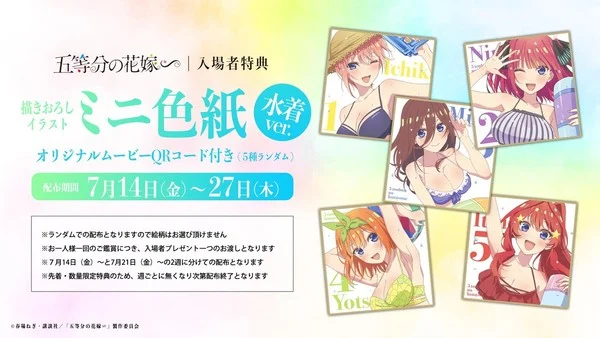 The anime special is screening in Japanese theaters for three weeks from July 14.
It will also air on television this summer.
Both the opening theme song and the ending theme song titled "Takaramono" (meaning "Treasure" in English) will be sung by the main actresses, namely Kana Hanazawa, Ayana Taketatsu, Miku Itō, Ayane Sakura, and Inori Minase.
Additionally, a CD featuring the music from the special and some game music will be released in Japan.
Negi Haruba started the original manga series in Kodansha's Weekly Shōnen Magazine in August 2017 and concluded it in February 2020.
The first season of the anime adaptation debuted in January 2019 and consisted of 12 episodes.
The second season of the anime aired from January 2021 to March 2021.
The Quintessential Quintuplets the Movie premiered in Japan in May 2022, serving as the conclusion to the story.
Crunchyroll started screening the film in the United States and Canada with English subtitles and an English dub on December 2.
Source: ANN