Onimush Anime To Debut On November 2, Trailer, Cast, And More Revealed!
The theme song by Måneskin is titled "The Loneliest".
On Wednesday, Netflix unveiled a new English-subbed trailer and visual for the anime based on CAPCOM's Onimusha game, and announced a November 2 release date.
Also, the company announced the anime's cast, and more staff, and the trailer previews the anime's theme song.
The theme song by Måneskin is titled "The Loneliest".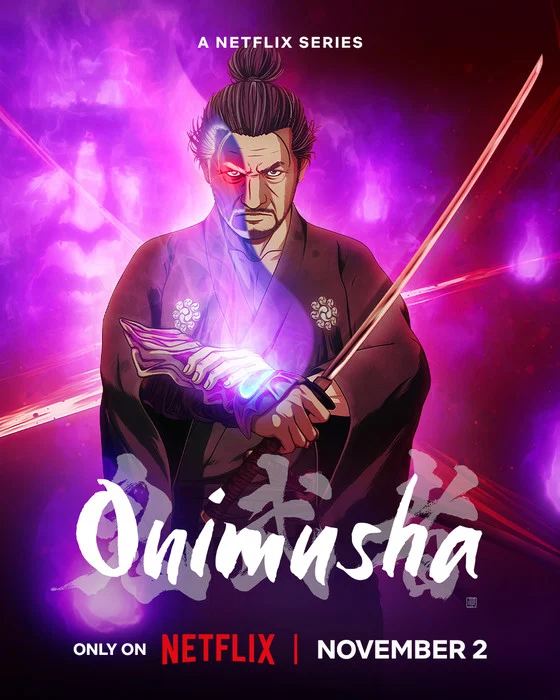 The cast includes:
Akio Ōtsuka as Musashi Miyamoto
Toshihiko Seki as Kojiro Sasaki
Houchu Ohtsuka as Kensuke Matsui
Daiki Yamashita as Sahei
Subaru Kimura as Goro-Maru
Katsuyuki Konishi as Heikuro
Kazuyuki Okitsu as Kaizen
Makoto Furukawa as Gensai
Aya Yamane as Sayo
Ryohei Kimura as Iemon
The staff includes:
Director: Shinya Sugai
Supervising Director: Takashi Miike
Music Composer: Koji Endo
Historical Supervision: Shochiku
Stunt Coordinator: Keiji Tsuji
Character Designs: Kim Jung Gi, Manilyn Toledana (For Miyamoto Musashi)
The late prolific actor Toshiro Mifune was used as the model for the character Miyamoto Musashi in the anime.
The Onimusha Sengoku era survival action game series made its debut in 2001 from CAPCOM.
The games in the series tell Sengoku-era tales again while adding paranormal aspects. Onimusha: Warlords, the series' most recent game, received a remaster in January 2019.
Source: ANN