One Piece Live-Action's Luffy Gets Emotional While Meeting Eiichiro Oda
"I can't imagine anyone else but you, so far. I'm so grateful that you were born to be just like Luffy." says Oda to Inaki.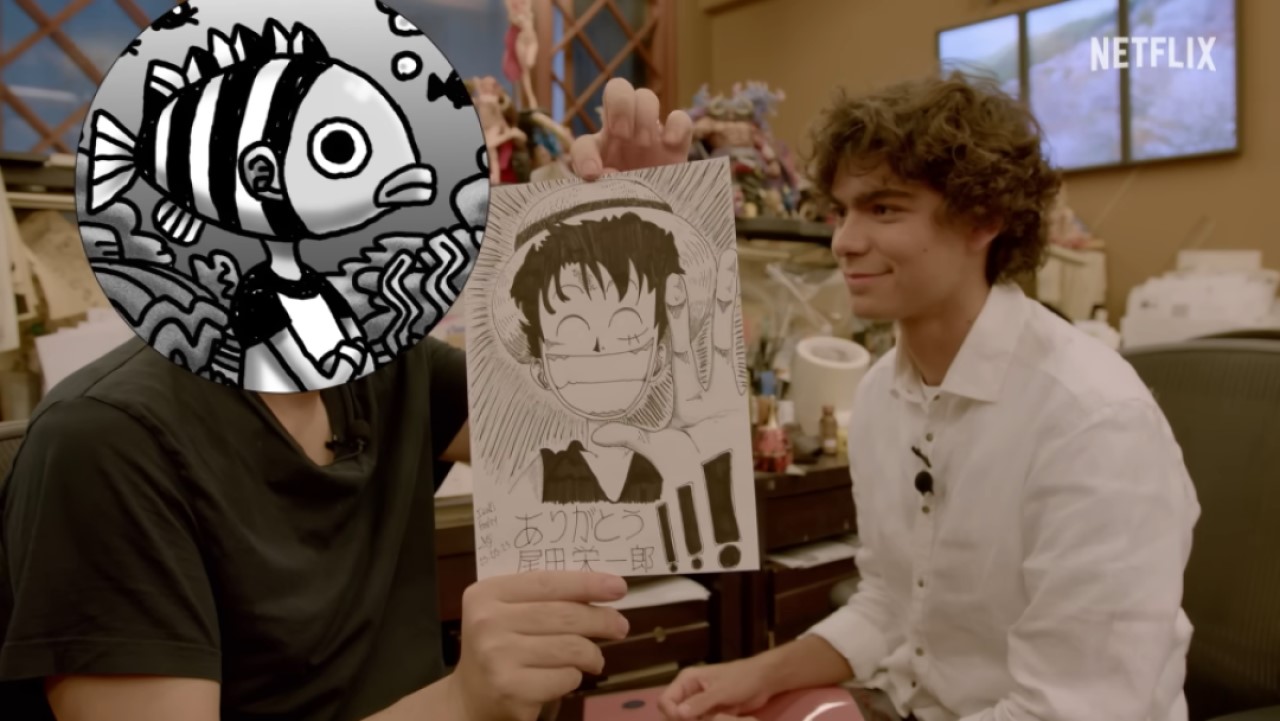 It's not often when fans meet up with their idols during their lifetimes. But Iñaki Godoy, an energetic young lad from Mexico who plays Luffy in Netflix's One Piece Live-action series, got the chance to meet the original creator of the manga himself, Eiichiro Oda!
From a behind-the-scenes featurette released by Netflix's YouTube channel on Aug 26, 2023, we see Inaki going up to Oda's office and asking him a bunch of questions regarding the live action series.
For instance, Oda reveals that it wasn't quite possible of a live-action version of One Piece to exist back in 1997 when the manga began because he felt the CG and VFX quality at that time wasn't up to his expectations. But now, he feels the technology has improved so much that one can bring literally anything to life on screen.
All that was needed for a reliable team to pull it off.
Oda further tells that his biggest fear about One Piece live action adaptation was in fact whether they'd be able to find the right Luffy. He watched a bunch of auditions and when he saw Iñaki's performance, he laughed. That's when he thought "Inaki is just like the character I draw in the manga."
Hearing from the creator himself how there's nobody else more suitable for Luffy's role made Inaki tear up. He explains to Oda how much Luffy and One Piece means to him and expressed his desire to play the character for a very long time.
Moved by emotions, Inaki proceeds to present Oda with his own sketch of Luffy along with a personal message expressing his admiration for One Piece, Luffy and the man behind it all. He sincerely thanks Oda for creating a world readers can be happy and comfortable.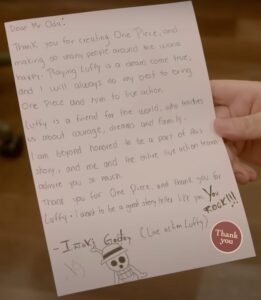 Oda says he's grateful for Inaki to be born just like Luffy, after observing his contagious energy to be matching with his story's main character.
In the 1st behind-the-scenes clip released by Netflix, Inaki took a trip to Shueisha's office in Japan and witness how it is to be inside the world of manga making.
The live-action adaptation of ONE PIECE is ready to set sail on Netflix, Aug. 31.
Matt Owens will be the show's writer, while Becky Clements and Steven Maeda will serve as executive producers.
Adelstein revealed in a video message displayed at Jump Festa in 2017 that the live-action television adaptation of the One Piece manga will commence with the 'East Blue arc' and extend it from there.
ONE PIECE is the bestselling manga series of all time, and this will be the franchise's first live-action adaptation. An epic saga of adventure on the high seas, the original manga follows the adventures of Luffy, an enthusiastic young man with the singular aspiration of becoming King of the Pirates.
The basic premise of the series goes as follows:
The tale of One Piece takes place on a parallel Earth when the 'Golden Age of Pirates' is in full swing.
The seas are ruled by ruthless pirates, and only the strongest can claim the legendary 'One Piece' fortune left behind by the greatest pirate of them, Gol D. Roger.
Years after Gol D. Roger's death, Monkey D. Luffy dreams of establishing his own crew, locating One Piece, and becoming the Pirate King.
Luffy has incredible strength and agility after eating a devil's fruit that turns his body into rubber.
He leaves Foosha Village in East Blue on his epic expedition to become the next Pirate King.
Source: YouTube