Netflix's Yu Yu Hakusho Live-Action 1st Trailer Reveals Dec 2023 Debut
A key visual was also released, featuring the main characters Yusuke, Kuwabara, Kurama & Hiei.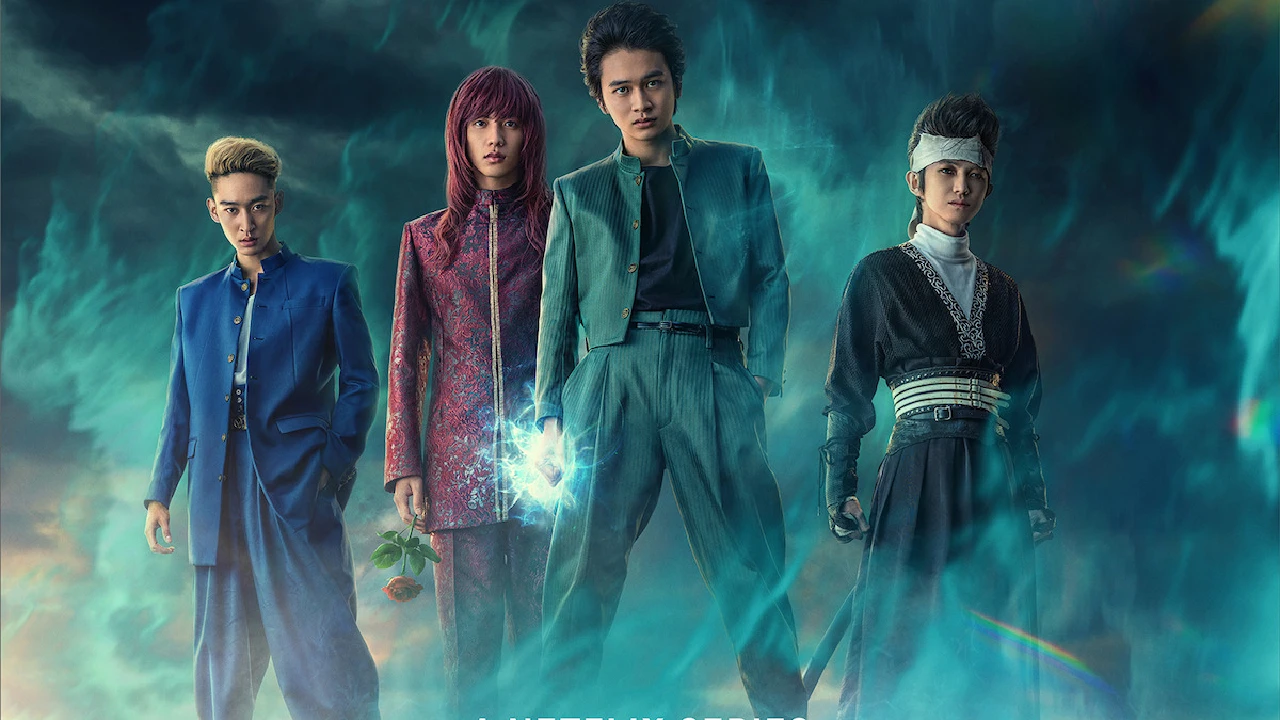 Netflix's Geeked Week 2023 unveiled the first look at Yu Yu Hakusho's live-action remake series, On Nov 11, 2023, by revealing its first trailer and key visual, along with a December 14, 2023 release date.
Part of Yusuke Urameshi's backstory is depicted in the new teaser, which opens with him mournfully looking down on his own body as paramedics vainly try to revive him. From there, Yusuke travels to the spirit world and meets Koenma (Keita Machida), who offers to bring Yusuke back to life… as an Underworld Detective.
In addition, it provided an introduction to the Toguro sibling duo. It's a little disturbing to see them in real life, especially the older, smaller Toguro perched on the shoulder of his younger sibling.
The key visual features the main cast of the show: Yusuke, Kuwabara, Kurama & Hiei.
Nothing is yet revealed about the staff members of Netflix's Yu Yu Hakusho live-action series but the cast members are as follows:
Takumi Kitamura (Let Me Eat Your Pancreas, Tokyo Revengers) as Yusuke Urameshi
Jun Shison as Kurama (Teiichi: Battle of Supreme High, Bubble)
Kanata Hongô (Kingdom, Attack on Titan) as Hiei
Shûhei Uesugi as Kazuma Kuwabara
Sei Shiraishi as Keiko Yukimura
Kotone Furukawa as Botan
Ai Mikami as Yukina
Hiroya Shimizu as Karasu
Keita Machida (Alice in Borderland) as Koenma
Meiko Kaji (Lady Snowblood, Female Prisoner 701: Scorpion, and Stray Cat Rock film series) as Genkai
Ken'ichi Takitô as Older Toguro
Gorô Inagaki as Sakyo
Gô Ayano (Yakuza to Kazoku: The Family) as Younger Toguro
YuYu Hakusho is a Japanese manga series written and illustrated by Yoshihiro Togashi. The manga was originally serialized in Shueisha's Weekly Shōnen Jump from December 1990 to July 1994. The series consists of 175 chapters collected in 19 tankōbon volumes. In North America, the manga ran completely in Viz's Shonen Jump from January 2003 to January 2010.
An anime adaptation consisting of 112 television episodes was directed by Noriyuki Abe and co-produced by Fuji Television, Yomiko Advertising, and Studio Pierrot. The television series originally aired on Japan's Fuji TV network from October 1992 to December 1994, and it was later licensed in North America by Funimation in 2001, where it aired on popular Cartoon Network blocks including Adult Swim and later Toonami.
Crunchyroll describes the plot of Yu Yu Hakusho as follows:
From cutting classes to brawling in the streets, Yusuke Urameshi is not your typical role model. In fact, this kid's nothing more than a fourteen-year-old delinquent with a talent for trouble. But in a single selfless act Yusuke dies while saving another. For such noble sacrifice he is given a second chance at life, but it's to be a life far different than the one left behind. Now a Spirit Detective, the young man must track down demons and humans alike who desire to rule over the three realms of reality.
Source: Netflix's Official Site