Netflix's Avatar: The Last Airbender Live-Action TV Series Trailer Reveals Feb 2024 Debut
Showrunner Albert Kim assures fans that the Live-action series will be authentic to the source material, while expanding on existing stories.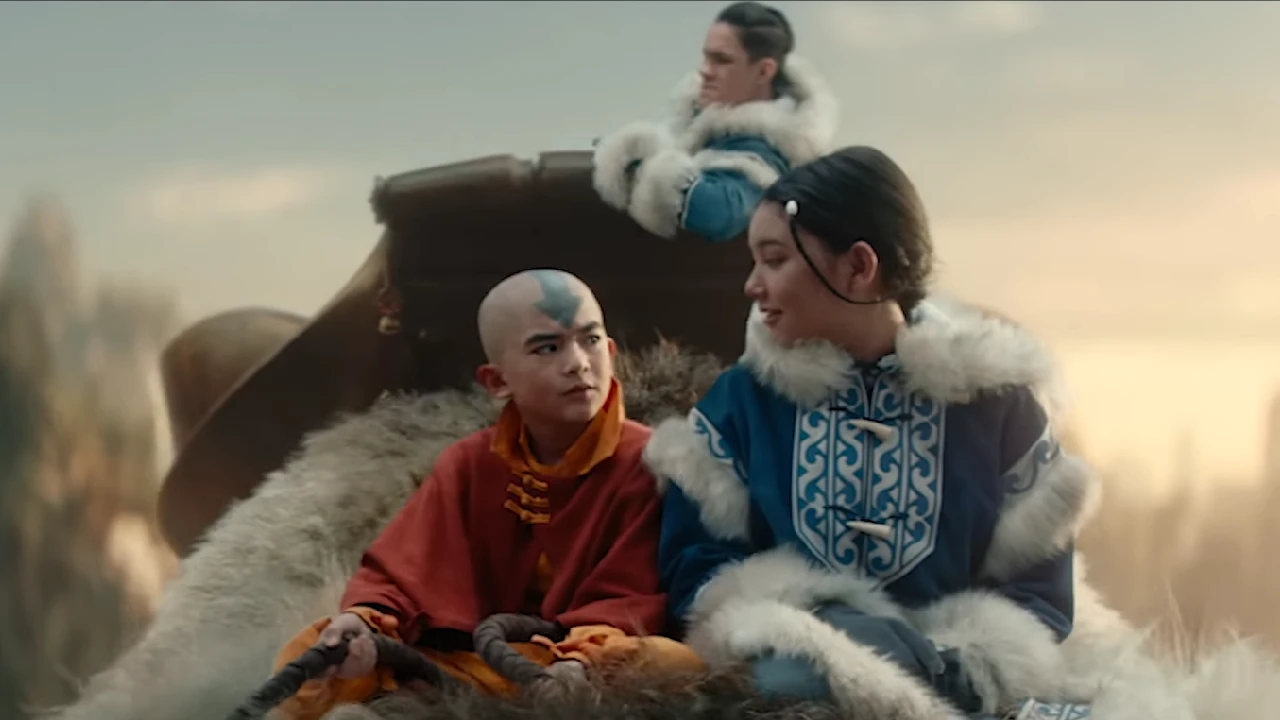 Netflix's Geeked Week '23 event brought us many surprises, but a certain reveal unveiled the hidden nostalgia deep within. On Nov 10, 2023, Netflix revealed the first look of Avatar: The Last Airbender Live-Action TV Series through its 1st trailer and key visual!
That's right, Aang and his gang are finally back and it looks like Netflix's adaptation seems more promising than a "certain" live-action movie that no fan dares to speak of.
The premiere date and first teaser trailer for Netflix's live-action reimagining of Avatar: The Last Airbender were revealed during Geeked Week 2023.
The teaser shows Aang, Katara, Sokka, and Zuko in action; showcases some of the exciting elemental bending to come; and reveals our very first look at several important characters in the story, including Aang's animal companions, Appa and Momo, whom we can see soaring through the sky.
And in the poster, Aang and his comrades Katara and Sokka are seen on the back of Appa. The latter is a magical creature that is a combination of a flying bison and a manatee.
As revealed by Netflix in the Geeked Week '23 event, Avatar: The Last Airbender premieres on Feb. 22, 2024.
Gordon Cormier, who plays Aang, previewed what fans could expect from the live-action series at a Tudum event in Brazil and states that this live-action series is going to bring everything fans love about the original series back to life!
"Avatar: The Last Airbender live action I feel like is going to bring everything you know and love about the original series back to life, And hopefully [it will] just bring a bunch of new fans who have never heard [of] the show before into this universe, and to me that's pretty exciting. I'm a fan of the show personally, and I'm just as excited for this as you guys are."
Showrunner Albert Kim, stated back in August 2021, that he himself was initially skeptical of a live-action project of a beloved animated franchise, even saying "if it ain't broke, why fix it?" but modern VFX technology has improved so much that he feels this project can capture the original animation's vibrant environment.
"Netflix offers me the opportunity to develop a live-action remake of Avatar. My first thought was, "Why? What is there I could do or say with the story that wasn't done or said in the original?" A:TLA had only grown in popularity and acclaim over the last decade and a half, which is a testament to how complete and resonant a narrative experience it had been. So if it ain't broke, why fix it?
But the more I thought about it, the more intrigued I became. VFX technology has advanced to the point where a live-action version can not only faithfully translate what had been done in animation — it can bring a rich new visual dimension to a fantastic world. We'll be able to see bending in a real and visceral way we've never seen before."
However, he assures fans of the original series that he'll make sure Netflix's Avatar: The Last Airbender Live-action TV Series will be "authentic" to the source material and wishes to NOT change things just for the sake of it, while at the same time, expanding on story points and emotional arcs we'd loved in the original.
"I also knew what I didn't want to do. I didn't want to change things for the sake of change. I didn't want to modernize the story, or twist it to fit current trends. Aang is not going to be a gritty antihero. Katara is not going to get curtain bangs. (I was briefly tempted to give Sokka a TikTok account though. Think of the possibilities.)
Don't get me wrong. We'll be expanding and growing the world, and there will be surprises for existing fans and those new to the tale. But throughout this process, our byword has been "authenticity." To the story. To the characters. To the cultural influences. Authenticity is what keeps us going, both in front of the camera and behind it, which is why we've assembled a team unlike any seen before—a group of talented and passionate artists who are working around the clock to bring this rich and incredibly beautiful world to life."  
Netflix describes the official synopsis of Avatar: The Last Airbender as follows:
"Water. Earth. Fire. Air. The four nations once lived in harmony, with the Avatar, master of all four elements, keeping peace between them. But everything changed when the Fire Nation attacked and wiped out the Air Nomads, the first step taken by the firebenders towards conquering the world. With the current incarnation of the Avatar yet to emerge, the world has lost hope.
But like a light in the darkness, hope springs forth when Aang, a young Air Nomad — and the last of his kind — reawakens to take his rightful place as the next Avatar. Alongside his newfound friends Sokka and Katara, siblings and members of the Southern Water Tribe, Aang embarks on a fantastical, action-packed quest to save the world and fight back against the fearsome onslaught of Fire Lord Ozai.
But with a driven Crown Prince Zuko determined to capture them, it won't be an easy task. They'll need the help of the many allies and colorful characters they meet along the way."
Source: Netflix Official Site