My Neighbour Totoro Play Secures 5 WhatsOnStage Awards
Play wins Best Set Design, Best Lighting Design, Best Sound Design, Best Direction, Best Musical Direction/Supervision
In collaboration with English theatre company Improbable and Japan's Nippon TV, Studio Ghibli's and Hayao Miyazaji's 1988 film "My Neighbour Totoro" (Toroni no Totoro in Japanese) had a play shown at London's Barbican Center.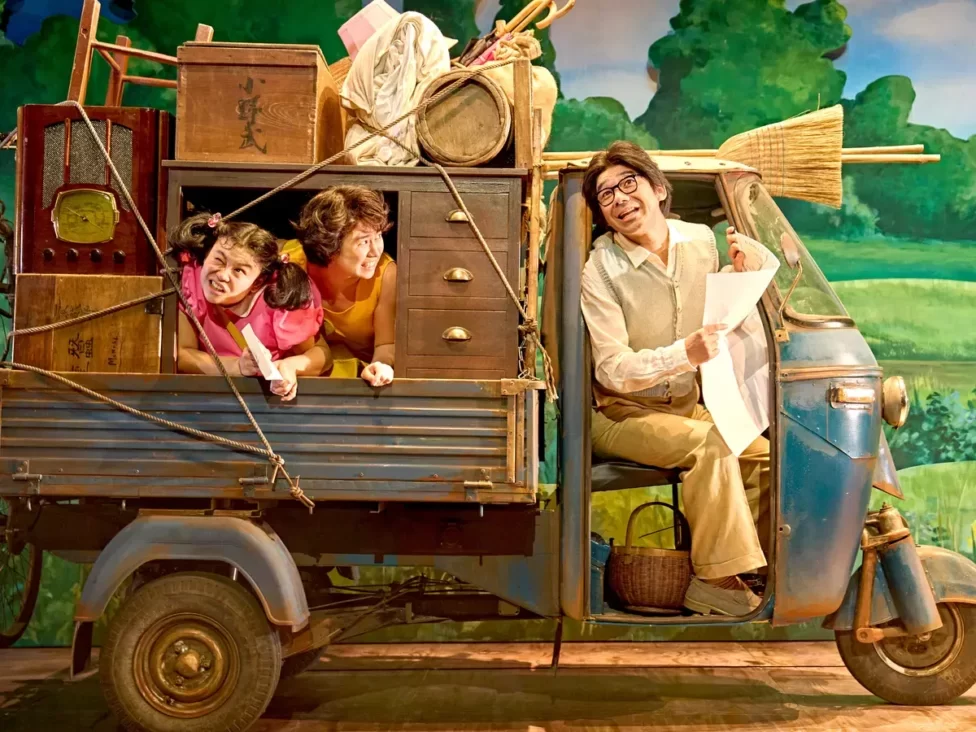 The play also won five awards at the theatrical WhatsOnStage awards. The play won:
Best Set Design – Tom Pye and Basil Twist

Best Lighting Design – Jessica Hung Han Yun

Best Sound Design – Tony Gayle

Best Direction – Phelim McDermott

Best Musical Direction/Supervision – Bruce O'Neil and Matt Smith
The play was also nominated in the following categories:
Best Performer in a Play – Mei Mac

Best Video Design – Finn Ross and Andrea Scott

Best Graphic Design – Toshio Suzuki and Dewynters

Best New Play
The play beats Rodgers and Hammerstien's Oklahoma! At the Young Vic with eight nominations.
The play had a 15-week run from 8 October 2022 to 21 January 2023. It was presented by the Royal Shakespeare Company (RHC) and Joe Hisaishi.
The latter also created music for the original film and serves as the executive producer for the play. In an interview with the Deadline Website, the director Phelim McDermott specified that the two sisters, most likely won't be played by children.  
He stated, "We have to use performers who can do many things …puppetry, physical stuff, so there are choices to be made."
He further specified that though there will be an onstage band during live music, the play won't be strictly musical.
McDermott also mentioned that six years ago, he met Joe Hisaishi in London.
The meeting was set up by composer Philip Glass as Hisaishi was interested in adapting My Neighbour Totoro for the stage.
Then, writer Morton-Smith met Hayao Miyazaki in Japan to discuss the play. During the discussion, Miyazaki asks Morton-Smith if he is a feminist.
Morton-Smith said, "I said 'yes' and that was very important to him and that the girls are central."
Morton-Smith said that he had permission "to expand on the beats (in the film) that are already there and show some scenes that aren't in the film."
RCS wrote this about the production of the play on their website: 
"This enchanting coming-of-age story explores the magical fantasy world of childhood and the transformative power of imagination, as it follows one extraordinary summer in the lives of sisters Satsuki and Mei.
My Neighbor Totoro will play a strictly limited 15-week season from 8 October 2022 – 21 January 2023 and promises to delight all generations."
MAL description of the film:
In 1950s Japan, Tatsuo Kusakabe relocates himself and his two daughters, Satsuki and Mei, to the countryside to be closer to their mother, who is hospitalised due to long-term illness.
As the girls grow acquainted with rural life, Mei encounters a small, bunny-like creature in the yard one day.
Chasing it into the forest, she finds "Totoro"—a giant, mystical forest spirit whom she soon befriends.
Before long, Satsuki too meets Totoro, and the two girls suddenly find their lives filled with magical adventures in nature and fantastical creatures of the woods.
Source: ANN