Miles Morales Pulls A Kamehameha In Marvel's Spider Man 2 Video Game
Dragon Ball has also referenced Spider Man as well, with Goku doing the iconic Spider Man pose & recreating the Spider Man 2 train scene.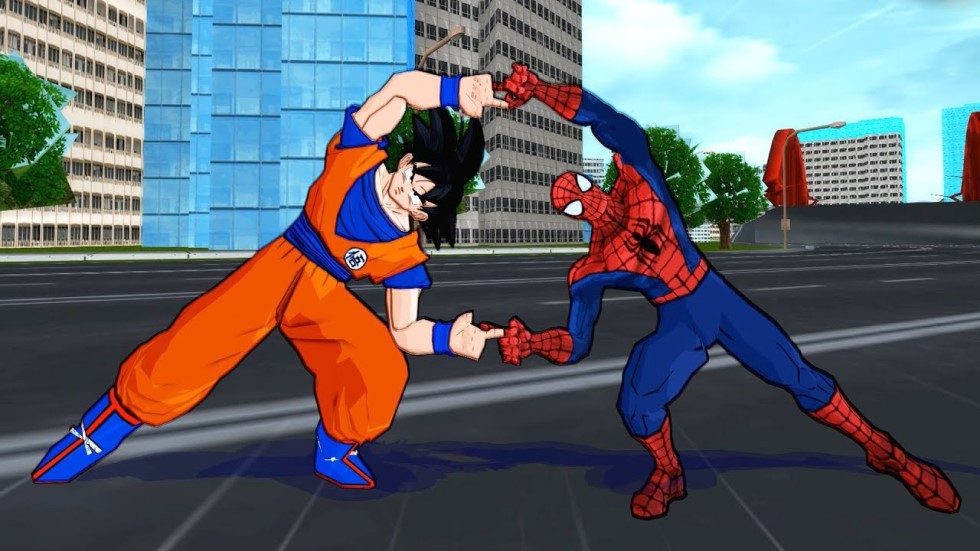 The official YouTube channel of PlayStation revealed the first gameplay clip of the much awaited Marvel's Spider Man 2 video game on May 24, 2023, raising everyone's expectations of the game.
But what's more interesting to us anime fans is the fact that Miles Morales, the Spiderman in the Ultimate Comics & Spider-Verse series, used a finisher move in the clip that resembles Goku's iconic Kamehameha technique from Dragon Ball.
Yes Twitter folks, I used the word "iconic" to describe the Kamehameha.
A bunch of fans caught up on the reference and pointed it out on the microblogging platform.
Bruh Miles said KAMEHAMEHA lmao pic.twitter.com/AgWFLZCCFH

— SLO (@SLOplays) May 24, 2023
Anyway. Here's Miles doing a Kamehameha. pic.twitter.com/HMTpj9Vegm

— Tyler (@Nanogenix) May 25, 2023
Every Dragon Ball fan:
YOO THATS MILES MORALES DOING THE KAMEHAMEHA!!!

SPIDER-MAN 2 HYPE!!! pic.twitter.com/uHUqLRLNPD

— ToonRami (@ToonRami) May 24, 2023
It wouldn't be twitter without some dumb comparison, wouldn't it? 😉 So here's one for you!
The Spider-Man kamehameha thingy is more iconic then the Kamehameha will ever be. pic.twitter.com/dCT4U9NDaT

— Twitch Streamer Gotenks (@SergeantGotenks) May 25, 2023
The reference to Dragon Ball in Marvel's Spider Man 2 is confirmed by the animator  of the finishing move himself!
While quoting the same clip embedded on a tweet, saying "Ooohh the finisher I did :)", one of the comments replied with a gif of Vegito doing "Final Kamehameha" for which, the animator replied with a gif that read "you damn right!"
— James Ham (@James_Ham90) May 25, 2023
James Ham, the lead animator of Insomniac Games who worked on Marvel's Spider Man 2, is also an avid Dragon Ball Z fan, so Miles' finishing move mirroring the Kamehameha isn't an accident.
I love me some DBZ

— James Ham (@James_Ham90) May 25, 2023
What's more, this ain't limited to the games as Miles Morales is shown to be a Dragon Ball fan in the comics as well! While Iron Man powers up to take down a villain, Miles, as Spider Man, uses the words "Super Saiyan" while describing his power up.
Isn't miles a dbz fan in canon marvel? Look lmao pic.twitter.com/i2vujKNqE2

— SM54 (@DSacchettoni) May 26, 2023
Dragon Ball has also referenced Spider Man as well, with Goku doing the iconic Spider Man pose & recreating the Spider Man 2 train scene in the Granolah arc against Gas.
Spider-Goku is canon pic.twitter.com/T6Tzsxc396

— Joseph "Salad" Joestar 🥗⭐️ (@SaladSaiyan) February 20, 2022
This reference is not confirmed though, however, the folks at Shueisha & the Dragon Room are familiar with Spider Man. In fact, Dragon Ball Super: Super Hero Producer Norihiro Hayashida has watched Spider-Man: Into the Spider-Verse.
While talking about the state of 3DCG in Japan, Hayashida stated in an interview that he was particularly impressed with Marvel's computer-animated in the film, saying that it had a Japanese Anime-esque feel.
"I was shocked by Spider-Man: Spider-Verse but that film also had a celluloid or comic book look, and Peter Parker had a Japanese anime style look. Perhaps foreign studios also feel the weakness of the polygon look.", Hayashida comments.
Launching in Fall 2023, Marvel's Spider-Man 2 is the next game in PlayStation's critically acclaimed Marvel's Spider-Man franchise. Developed by Insomniac Games in collaboration with Marvel Games and PlayStation for the PlayStation 5 console.
Written by Akira Toriyama and illustrated by Toyotaro, Dragon Ball Super is a Japanese manga and anime series that follows on from the original Dragon Ball manga.
A midquel to Toriyama's original Dragon Ball manga, it follows the adventures of Goku and friends during the ten-year timeskip after the defeat of Majin Buu. It began serialization in Shueisha's V Jump in June 2015. The manga is simulpublished in English by Viz Media and by Shueisha on their Manga Plus platform.
Toei Animation developed an anime television series that aired in Japan from July 2015 to March 2018. Dragon Ball Super: Broly, a sequel film, was released in December 2018 and became the franchise's highest-grossing anime film. Super Hero, the sequel, was released on June 11, 2022.
Crunchyroll described the plot as follows:
After 18 years, we have the newest Dragon Ball story from creator Akira Toriyama. With Majin Buu defeated, Goku has taken a completely new role as…a radish farmer?! With Earth at peace, our heroes have settled into normal lives. But they can't get too comfortable. Far away, the powerful God of Destruction, Beerus, awakens to a prophecy revealing his demise at the hands of an even more formidable being. When his search for the Saiyan God brings him to Earth, can Goku and his friends take on their strongest foe yet?
Source: Twitter