Kodansha's K MANGA Launches With 30+ Manga With English Debuts!
The service will introduce 30 new mangas in English.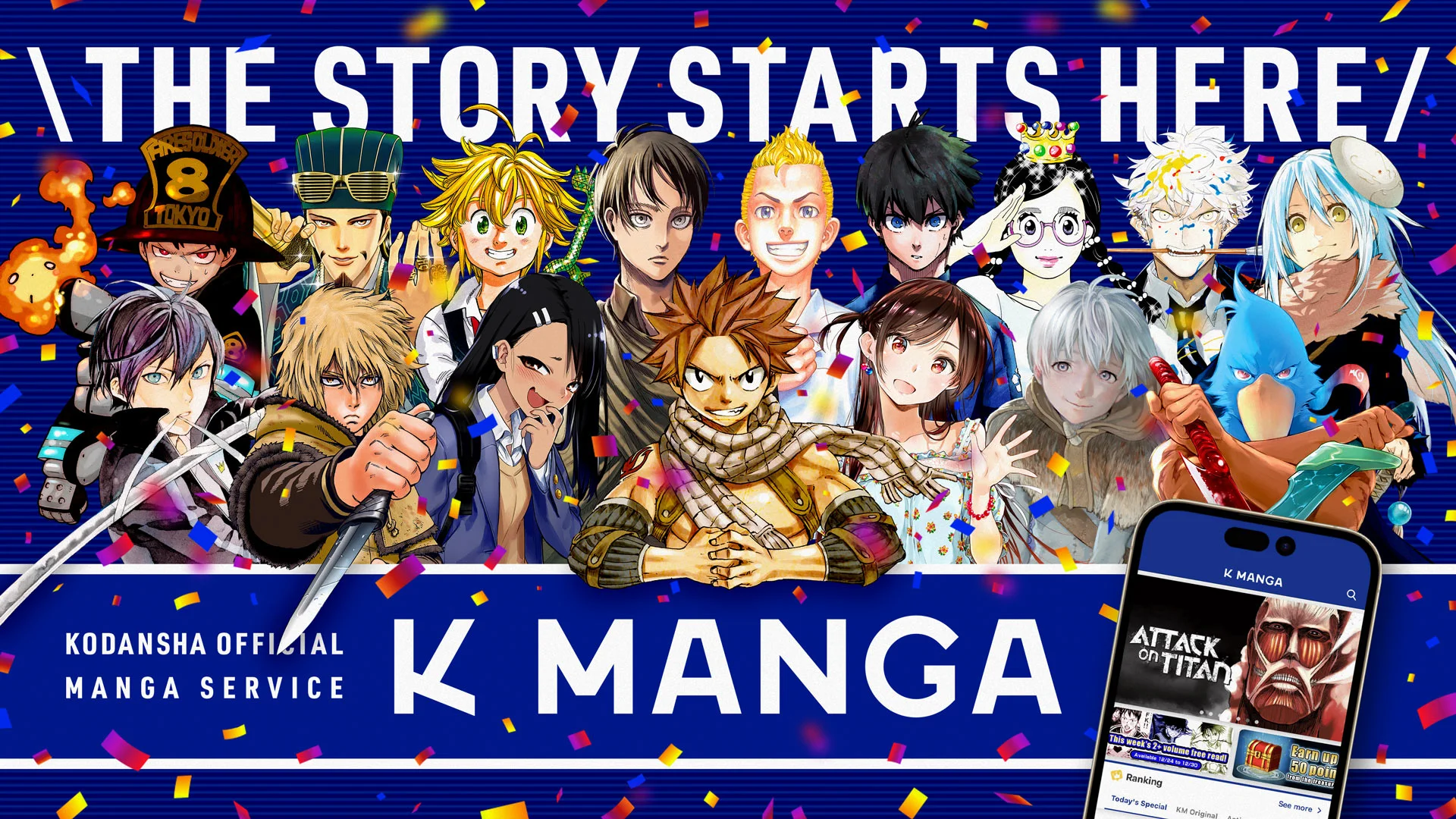 On Saturday, Kodansha Ltd. provided ANN with a list of launch titles for the K MANGA service.
The service will introduce 30 new mangas in English.
The list is as follows:
(Titles with an asterisk next to them are also simulpub titles)
Yūji Terajima's Ace of the Diamond Act II (Daiya no A Act II)
Meebu and Kōji Megumi's ACMA:GAME
Hikaru Katsuki's Baby Steps
Yuki Sato and Mikoto Yamaguchi's Tomodachi Game*
Kohei Nagashii's The Two Faces of Misaki Hoshino. (Hoshino, Me wo Tsubutte.)
Negi Haruba's The Quintessential Quintuplets full color version
Hoshino Taguchi's The Lady's Servant (Ojō-sama no Shimobe)*
Masahito Soda's Capeta
Mitai Irohara's Yokuoni: Ogres of Greed (Yokuoni)
Yuu Kuraishi, Kazu Inabe, and Kengo Mizutani's Starving Anonymous Re:Velation (Shokuryou Jinrui Re: -Starving Re:velation-)
Kou Wanatsu and Kei Aomi's Why The Bell Tolls at Dusk (Kasōba no nai Machi ni Kane ga Naru Toki)
Rurekuchie, Rokujūyon Okazawa, sage joh's Chillin' in My 30s after Getting Fired from the Demon King's Army (Kaiko Sareta Ankoku Heishi (30-Dai) no Slow na Second Life)*
Itoe Takemoto and Nahoko Uehashi's The Beast Player (Kemono no Sou-ja)
Aki Hagiu and Hiroto Kanō's The Inferior Magic Swordsman (Rettōjin no Maken
Tsukai: Skill Board wo Kushishite Saikyō ni Itaru)*
Satou and Morinari Miyagi's The Ultimate Fire Sorcerer's Return: Through Hellfire and Back! (Jigoku no Gōka de Yakare Tsuzuketa Shōnen. Saikyō no Honō Tsukai to Natte Fukkatsu Suru.)
Tsukasa Monma and Shikako's Manchuria Opium Squad (Manshū Ahen Squad)
Chisato Abe and Natsumi Matsuzaki's A Raven for All Seasons (Karasu ni Hitoe wa Niawanai)
Noriaki Kotoba's The Warrior Princess and the Barbaric King (Hime Kishi wa Barbaroi no Yome)*
Juu Ishiguchi's HERO PLATOON: The Taciturn Hero Will Not Be Persuaded! (Yūsha Shōtai: Kamoku Yūsha wa Nagasarenai)
Kitsuneko's Asami Kuroki's on A(nother) Bender! (Tonari no Kuroki-san wa Nomu to Yabai)
Asahi and Aiue Okaki's The Russian Transfer and the Polyglot (Nihongo ga Hanasenai
Russia-jin Bishōjo Tennyūsei ga Tayoreru nowa, Tagengo Master no Ore Hitori)
Alto and Yuki Monji's The Banished Court Magician Aims to Become the Strongest (Mikata ga Yowasugite Hojo Mahō ni Tesshiteita Kyūtei Mahōshi, Tsuihōsareta Saiyō wo Mezasu)*
Wakatsuki Hikaru's Fujisaki-kun's Prey-ful Life (Higyaku Danshi Fujisaki-kun)
Sai Sumimori and Yatsuki's Reincarnated Adventurer of the Curse Mark – Enjoying
Freedom As The Strongest Sage – (Jukokuin no Tensei Bōkensha: Saikyō Kenja, Jiyū ni Ikiru)*
Hajime Inoryū and Takahiro Ōba's A Psycho's World (Psycho no Sekai)
Hifumi's The 47 Great Wars (Shijūshichi Taisen)
Nanarō Fuji and Natsuka Tachibana's The Ultimate Healer Restores All (Kiwameta Heal ga Subete wo Iyasu! Mura de Muyō ni Natta Boku wa, Hirotta Gomi wo Geki Rare Item ni Shūzenshite Nariagaru!)
Miki Yoshikawa's Hiragi-san's House of Vampires (Hiiragi-san Chi no Kyūketsu Jijō)*
Saka Mikami's The Fragrant Flower Blooms With Dignity (Kaoru Hana wa Rin to Saku)*
Kei Urana's GACHIAKUTA* (Kodansha USA will release the series this fall)
Yōsuke Kaneda's The Classroom of a Black Cat and a Witch (Kuroneko to Majo no Kyōshitsu)*
Muneyuki Kaneshiro, Yūsuke Nomura, and Kōta Sannomiya's BLUELOCK -Episode Nagi-*
Jinsei Kataoka and Kazuma Kondou's Retropolis Scratch*
On May 10, the K MANGA service made its debut as a mobile application for both iOS and Android platforms.
It offered around 400 titles, including 60 simulpub titles, to its users.
Most titles allowed free access to their initial chapters. The service operates on a Ticket- and Point-based system. Additionally, there are plans to launch the service for web browsers in the future.
Source: ANN