Golden Kamuy Live Action Releases Trailer, Visual, And Cast
The film will premiere on January 19, 2024.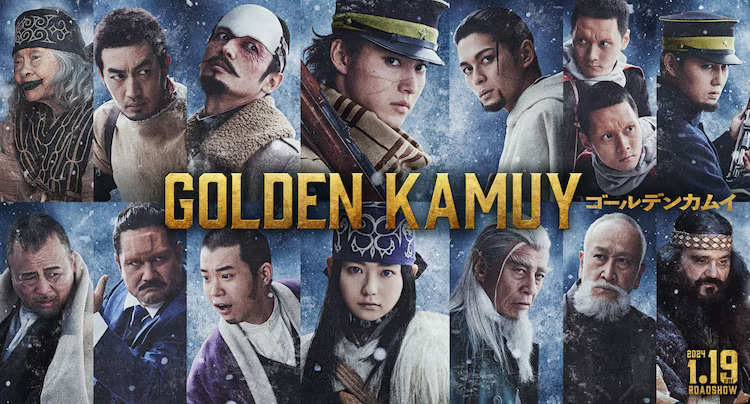 On Wednesday, the official website for the live-action film adaptation of Golden Kamuy released the trailer and a visual for the film.
The website also unveiled the staff, cast, and January 19, 2024, premiere date.
The cast for the film includes:
Kento Yamazaki as Saichi Sugimoto
Anna Yamada as Asirpa
Gordon Maeda as Hyakunosuke Ogata
Yuma Yamoto as Yoshitake Shiraishi
Asuka Kudo as Hajime Tsukishima
Shuntaro Yanagi as Yohei and Kohei Nikaido
Ryohei Otani as Genjiro Tanigaki
Katsuya as Tatsuma Ushiyama
Katsumi Kiba as Shinpachi Nagakura
Hisako Okata as Huci
Makita Sports as Takechiyo Goto
Debo Akibe as Asirpa's great-uncle
Hiroshi Tamaki as Tokushiro Tsurumi
Hiroshi Tachi as Toshizo Hijikata
The staff includes:
Director: Shigeaki Kubo
Script : Tsutomu Kuroiwa
Music Composition: Yutaka Yamada
Ainu Supervision: Hiroshi Nakagawa and Debo Akiba
Procution Company: CREDEUS
The film is based on Shigeaki Kubo's manga, Golden Kamuy. He published the manga in Shueisha's Young Jump magazine in 2014 and completed its run in April 2022.
Golden Kamuy received its first anime adaptation in April 2018. Later in October 2018, the second season of the anime premiered.
The third season premiered in October 2020, and the first part of season four premiered in October 2022, airing only six episodes.
Production delayed the other episode due to the passing of a main staff member of the anime on November 1.
The anime then continued its broadcast on April 3 by rebroadcasting the first episode.
Anime has already been greenlit for its final arc.
Source: Official Website for the Golden Kamuy Live Action Film, Comic Natalie