Black Clover Author Redraws Dragon Ball Volume 40
The gallery will conclude in November 2023 with all 42 volume covers being redrawn.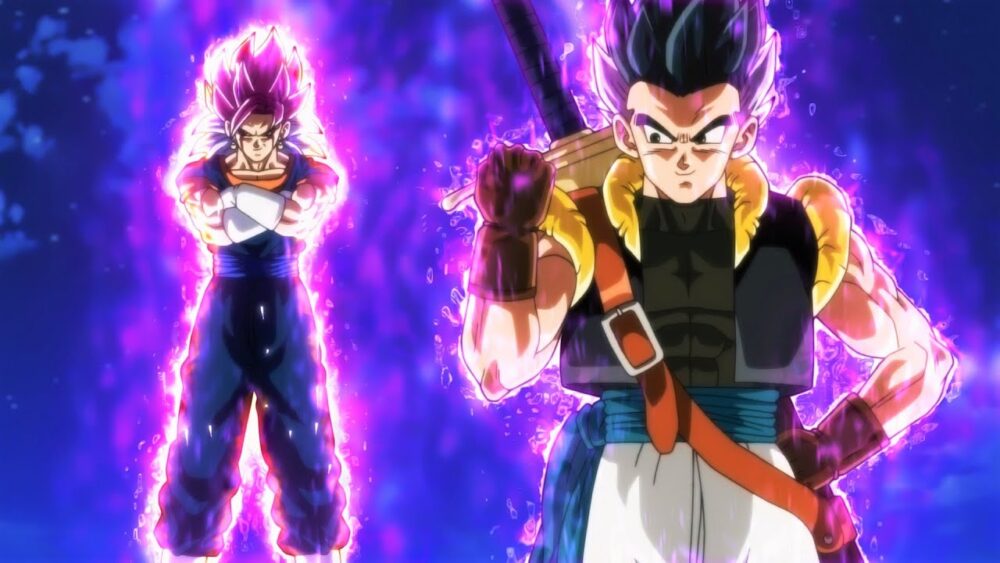 The volume cover rendition of May 2023 for the Dragon Ball Super Gallery project.
This month, Black Clover author Yuki Tabata has redrawn volume 40 of Akira Toriyama's 1984 series Dragon Ball manga.
The cover features Gotenks, the fusion entity of Trunks and Goten.
Alongside the illustration, it also features the artist's comment.
Translation of Yuki Tabata's comment:
"Dragon Ball was the beginning of my manga life and will forever be the No. 1 manga. That's what I, as a child, said.
When I was in nursery school, my friend brought me a copy of Dragon Ball in a Jump magazine, and I decided at that moment to become a mangaka in the future.
I am truly honoured to be a part of such a project. And Dragon Ball is still extremely popular.
Being able to become a mangaka has allowed me to appreciate the awesomeness of Dragon Ball even more. Thank you very much!"
The Dragon Ball Super Gallery project was inaugurated by the Saikyo Jump magazine of Shueisha in the September 2021 issue.
Dragon Ball Volume 40 Cover by Yuki Tabata, author of Black Clover! pic.twitter.com/R5lqez71XF

— Hype (@DbsHype) May 30, 2023
The project was created to pay homage to the iconic Shonen series and franchise on the occasion of its upcoming 40th anniversary.
Each month, the gallery features a new rendition of a volume cover by famous artists and mangakas.
The gallery will conclude in November 2023, with all 42 volume covers being redrawn.
The list was started in August 2021 by the creator of Naruto, Masashi Kishimoto. He drew the cover of volume 11.
Up until now, 22 volume covers have been redrawn, including the one by Yuki Tabata.
Below is the list of all the redrawn volume covers to date:
August 2021: Vol. 11 by Masashi Kishimoto (Naruto)
September 2021: Vol. 27 by Tite Kubo (Bleach)
October 2021: Vol. 28 by Osamu Akimoto (Kochikame)
November 2021: Vol. 38 by Ryuhei Tamura (Beelzebub)
December 2021: Vol. 2 by Tatsuki Fujimoto (Chainsaw Man)
January 2022: Vol. 32 by Koyoharu Gotouge (Demon Slayer)
February 2022: Vol. 9 by Shinohara Kenta (Sket Dance)
March 2022: Vol. 15 by Tatsuya Endo (SPYxFAMILY)
April 2022: Vol. 6 by Hiroshi Shiibashi (Nurarihyon no Mago)
May 2022: Vol. 19 by Mitsutoshi Shimabukuro (Toriko)
June 2022: Vol. 20 by Yusei Matsui (Assassination Classroom)
July 2022: Vol. 33 by Hirohiko Araki (Jojo's Bizarre Adventure)
August 2022: Vol. 23 by Kyosuke Usuta (Pyu to Fuku! Jaguar)
September 2022: Vol. 3 by Koji Inada (Dragon Quest: The Adventure of Dai)
October 2022: Vol. 7 by Mikio Ikemoto (Boruto: Naruto Next Generations)
November 2022: Vol. 14 by Tadatoshi Fujimaki (Kuroko's Basketball)
December 2022: Vol. 4 by Akira Amano (Katekyo Hitman Reborn!)
January 2023: Vol. 31 by Kentaro Yabuki (Black Cat)
February 2023: Vol. 16 by Hideaki Sorachi (Gintama)
March 2023: Vol. 22 by Posuka Demizu (The Promised Neverland)
April 2023: Vol. 26 by Boichi (Dr. Stone)
May 2023: Vol. 40 by Yuki Tabata (Black Clover)
Source: Twitter